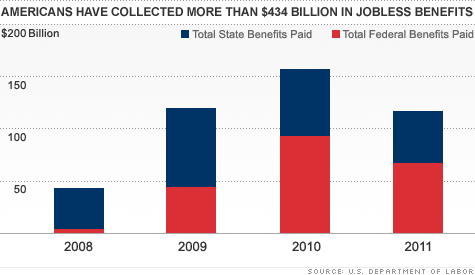 NEW YORK (CNNMoney) -- Jobless Americans have collected $434 billion in unemployment benefits over the past four years.
Taxpayers have footed $184.7 billion of the tab incurred during the federal government's unparalleled response to the Great Recession, according to Labor Department data. State and federal taxes on employers cover the rest.
The cost of continuing this safety net will be the subject of intense debate in Congress in coming weeks as lawmakers decide whether to extend the deadline to file for federal benefits beyond year's end. Keeping this lifeline in place through 2012 would cost $44 billion.
Here's how the system works: The jobless collect up to 26 weeks of state benefits before shifting to the federal program. Federal benefits consist of up to 53 weeks of emergency compensation, which is divided into four tiers, and up to another 20 weeks of extended benefits.
Those who reach the end of their state benefits or federal tier will not be able to apply for additional benefits unless the deadline to file is extended.
Some 17.6 million Americans have collected federal benefits over the past four years. The most recent extension, passed last December, kept 7 million people on the rolls.
If Congress doesn't act, 5 million Americans would lose federal benefits in 2012, according to the Labor Department.
"These modest payments help unemployed workers and their families stay afloat and they keep money flowing into local businesses," said Christine Owens, executive director of the National Employment Law Project.
While extending the safety net generally has bipartisan support, lawmakers are deeply divided over how to pay for it. Republicans have insisted the cost be covered through steps such as spending reductions, while Democrats want it considered emergency spending so it would not have to be offset by other measures.
"Some lawmakers say that we cannot afford to extend unemployment benefits and payroll tax relief in the current fiscal environment. But I say we can't afford not to," Labor Secretary Hilda Solis said at a press conference Wednesday.
Federal emergency benefits began in June 2008 and have been increased or extended eight times since then. When Congress passed a 13-month extension last December, it was thought by some to be the last.
The cost of jobless benefits has been dropping as the unemployment rolls contract. Some $156 billion was doled out in fiscal 2010, boosted in part by a $25 weekly supplement that ended in the middle of that year. The unemployed collected only $116 billion in the past fiscal year.
As of early November, 6.7 million people were collecting state or federal unemployment benefits, down from a height of 12.1 million in January 2010.