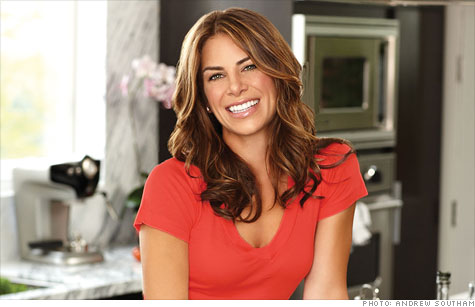 Jillian Michaels was bullied as a kid -- an experience that made her tough and able to deal with the challenges of entrepreneurship.
NEW YORK (CNNMoney) -- She rose to fame as the tough love personal trainer on the hit reality show, "The Biggest Loser." But Jillian Michaels said her true passion is improving the lives of others through her one-woman wellness brand.
The 37-year-old life coach overcame a rough childhood, marked by merciless bullying from her peers, her parents' divorce, and her own struggles with being overweight. She credits her life experiences and subsequent therapy with helping her to build resilience and an empire that reportedly made $200 million last year.
In 2008, Michaels co-founded Empowered Media with her business partner, Giancarlo Chersich, to oversee her expanding brand that includes her website and online fitness program, best-selling books, workout DVDs, video games, K-Swiss fitness apparel and shoes, as well as exercise equipment.
In April, Michaels released her motivational book, "Unlimited How to Build an Exceptional Life," and in the spring, she joined television's daytime series, "The Doctors," and became a special correspondent on the "Dr. Phil" show. As Michaels releases her new fitness DVD, "Extreme Shed and Shred," she shared her tough-love advice for entrepreneurs.
Define your purpose. "The Biggest Loser" was a wonderful opportunity for me, but I always felt I was just giving people one piece of the equation with fitness advice. I wanted to be able to empower people on broader wellness topics including self-esteem and nutrition. With my company Empowered Media, I'm able to offer total life solutions and to help people meet both their physical and psychological goals. My brand is about overall health and happiness, and I'm always adding new vehicles such as podcasts, an e-mail newsletter and an iPhone app to extend my message.
Get a mentor. Having a mentor can save you a lot of time and accelerate your success. My business partner Giancarlo and I were fortunate to have Suze Orman take us under her wings.
She counseled us on everything from how to work with the shopping network QVC, to protecting ourselves legally. She warned me that as I became more high profile, litigious people would inevitably look to make a quick buck by filing lawsuits against our company, and advised us to get an "errors and omission" insurance policy to cover legal costs in the event of a lawsuit, and to make sure we were indemnified with all of our partners."
Find meaning in setbacks. Suze once told me there aren't any failures, just opportunities that allow you to improve and grow. About a year before I auditioned for "The Biggest Loser," I was up for a VH1 show. All of my celebrity clients called to put in a good word for me and I thought I nailed the audition.
I didn't get the job and I thought my peers would revel in my failure, and my clients would see me as a loser and reconsider training with me. I later found out I wasn't hired because they thought my celebrity clients would make me seem inaccessible. When "The Biggest Loser" auditions came around a year later, I incorporated what I learned from the VH1 experience and lined up testimonials from all of my soccer mom and Baby Boomer clients.
Stop selling yourself short. Entrepreneurs often need to work through their dysfunctional issues and believe in their self-worth in order to succeed in business. A lot of people have old family dynamics, or issues such as being bullied as a child, that carry over into adulthood and really inhibit their ability to progress. Early on in my career, I made a business decision that didn't feel right, but I was afraid if I blew the opportunity, I might not get another. You can't make good business decisions if they're based in fear.
Align with companies who share your vision. When I was on "The Biggest Loser," [co-star] Bob Harper mentioned how he thought Popchips potato chips were the greatest thing in the world. I looked at the ingredients and was blown away by how healthy they were and how good they tasted.
I started talking about them, although I wasn't paid to endorse them, and that led to us working on some projects together. Giancarlo and I also recently invested in a new company, Flywheel Sports, an innovative indoor cycling program, and have also partnered with BodyMedia, on their new FIT Armbands.