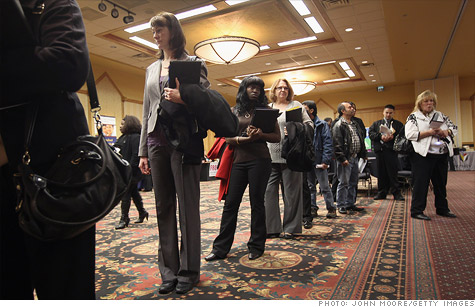 NEW YORK (CNNMoney) -- The number of Americans filing for first-time unemployment benefits fell to a nine-month low, signaling a bright spot in the tough employment environment.
There were 381,000 initial jobless claims filed in the week ended Dec. 3, the Labor Department said Thursday. That was down 23,000 from the prior week's 402,000 jobless claims and the lowest level since February 26.
A level below 400,000 often signals job growth strong enough to lower the unemployment rate, many economists say.
But the numbers could have been affected by seasonal adjustments for the Thanksgiving holiday, according to Ian Shepherdson, chief U.S. economist at High Frequency Economics.
"You should probably expect a modest rebound next week," Shepherdson said in a research note. "Thanksgiving seasonals are tricky and the Labor Dept says they flattered the numbers."
But Shepherdson says the overall trend is pointing toward job growth. "We expect claims to head slowly downwards for the foreseeable future, and in due course payroll growth will accelerate," he said.
Meanwhile continuing claims -- which include Americans filing for their second week of claims or more -- fell 174,000 to 3,583,000 in the week ended Nov. 26 -- the lowest level since September 2008.
As the European debt crisis continues to weigh on world markets, investors are looking for strength in the U.S. economy, and the surprise drop in Americans filing for first-time unemployment benefits isn't the first optimistic report. Last week, the Labor Department reported that the unemployment rate dropped to 8.6% in November -- its lowest since March 2009 and a sharp improvement from 9.0% in October.