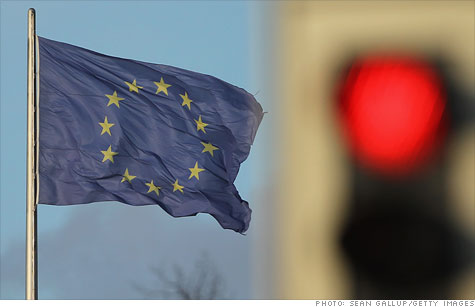 European leaders are moving closer to a viable solution to the debt crisis, but the road ahead is still full of potential pitfalls.
NEW YORK (CNNMoney) -- George L. Perry is a senior fellow at the Brookings Institution. He served as senior economist on the President's Council of Economic Advisers from 1961 to 1963.
The debt crisis situation in Europe is dire.
European officials, led by German Chancellor Angela Merkel and French President Nicolas Sarkozy, have promised to hammer out new fiscal agreements for this week's summit.
The initial rumor called for tight new budgetary rules for the long run with penalties for violating them, and a new system for enforcing them. The sweetener? Germany would agree to expanded eurozone support for the sovereign debt of all eurozone members.
The odds of tighter new rules have gone down, but the sweetener remains.
The markets have so far reacted positively, if provisionally. Risk premiums on the bonds of Italy, Spain and other fiscally weaker members have fallen abruptly and stock markets are higher.
Mission accomplished? Hardly.
German support for euro-wide backing of members' sovereign debt is certainly a game changer. It is urgently needed in the present acute debt crisis and is probably essential to preserving the euro currency zone in the long run.
And if such support is to be available, a system for assuring prudent fiscal policies by eurozone nations is also needed.
It is not that reckless fiscal policies were the common cause of the present crisis -- they were not. But German and Dutch voters do not want to risk subsidizing reckless fiscal policies indefinitely.
So what should a good system look like? Greeks and Italians do not want German and Dutch officials dictating tax and spending priorities. And nobody should want a system that is too rigid, like the balanced budget requirement that has appeared in some discussions.
If the new system is seen as too intrusive on individual sovereignty or too unresponsive to individual economic conditions, it could be rejected by some member nations in coming months or could lead to serious political clashes when push comes to shove in the future. That is presumably why the originally rumored plan seems to be on the back burner.
So the search for better alternatives must continue.
Last year, I outlined a plan that would produce fiscal prudence through market incentives rather than regulations and enforcement from a central bureaucracy. It is both efficient and politically attractive.
The system would operate with both national sovereign debt and eurobonds. The eurobonds would be the senior debt in the usual sense, and only they would be backed by the eurozone. Governments would borrow in eurobonds up to a modest deficit of say 2% or 3% of GDP. Beyond that limit, however, they would borrow in national bonds and bear all the default risk.
Borrowing costs on national bonds would be highly sensitive to risk, and governments would have very strong incentives to avoid loose policies that require borrowing with national bonds.
Equally important, the system would also be flexible about what deficits were risky. It would avoid the sharply higher rates on refinancing maturing debt that currently plagues the weaker eurozone nations because almost all the refinancing would be in eurobonds.
I believe this dual-market approach makes more sense than the rules-with-teeth alternative that could still emerge from this week's meeting. Still, some step toward fiscal union is urgently needed.
The best should not get in the way of the better. The politics are tricky and getting a commitment to a stronger union is the top priority.
For now, improvements can wait.