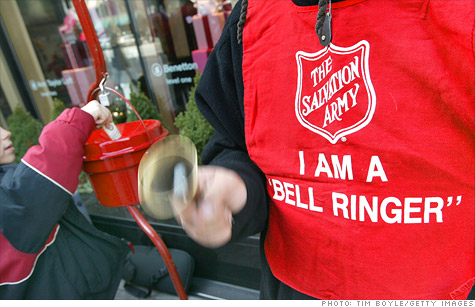 Every year the Salvation Army collects donations, and every year gold coins, diamonds and even gold teeth from anonymous donors end up in the ubiquitous red kettles.
NEW YORK (CNNMoney) -- This time of year, familiar Salvation Army volunteers don a Santa's hat and stand on the street corner collecting loose change to feed the needy -- and every now and then they strike gold, literally.
So far this Christmas season, the Salvation Army has received a total of about 40 gold coins, left anonymously in their red kettles, among other valuable treasures, the non-profit organization said.
Fourteen Swiss gold francs were dropped in a kettle at the Jewel-Osco grocery store in Libertyville, Ill. Those coins, each containing 0.19 ounces of gold, are worth nearly $3,000 together, given Thursday's spot price.
The coins came with a note that said "enclosed is a second identical donation to assist you in your Godly care of our neediest brothers and sisters. Trust me, these donations are small when compared to the bountiful blessings God has bestowed on us," according to the Salvation Army Metropolitan Division which serves Chicago, northern Illinois and northwestern Indiana.
"It's a nice surprise," said Jennifer Byrd, spokeswoman for the organization.
But finding a gold coin in a red kettle is not new, Byrd said. "This happens every year," she said. "There's always a lot of anticipation about where the first gold coin will pop up."
Over the past 25 years the Salvation Army's street corner volunteers have received more than 400 gold coins from anonymous donors.
Those gold coins have become even more valuable in recent years. The price of gold hit a record earlier this year and now hovers just above $1,600 an ounce.
Although gold is favored as a safe haven investment in tough economic times, Byrd said the organization converts the donations to cash so the funds can be put to immediate use -- a move Steven Hansen, president of scrap gold dealer Goldfellow.com agrees with. "Their mission is really to help those in need so they would be best to use the proceeds to carry out their mission," he said.
Red kettle donations are primarily used to purchase food, toys and clothing for low-income families in their local community. Nationwide, the Salvation Army serves about 30 million people every year.
This year the Salvation Army also received 36 $100 bills in Chattanooga, Tenn. a $20 gold coin worth about $1,400 in Fort Myers, Fla. and five gold Krugerrand coins worth about $8,000 together in Frederick, Md.
Some more unusual kettle contributions included a diamond ring valued at $5,000 wrapped in a $1 dollar bill in Spokane, Wash. and a set of gold teeth in Fort Myers, Fla.
Each year, the red kettle campaign starts the Friday after Thanksgiving and runs until Christmas Eve. Last year $142 million was collected from kettle donations alone.