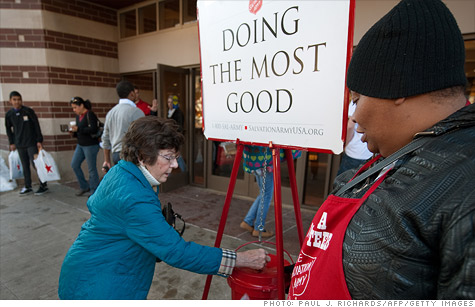 NEW YORK (CNNMoney) -- Chalk it up to the holiday spirit -- or just smart tax planning -- but charitable giving is looking up this month.
Giving in December is already up 15% from 2010, according to the latest tally by Network for Good, a site that enables donors to contribute to more than 10,000 charities across the country. In November, donations rose 20% over the same month last year.
"This year looks a little better, but not back to pre-recession levels yet," said Katya Andresen, Network for Good's chief strategy officer.
But the best is yet to come. While one-third of all online giving for the year occurs in December, a whopping 22% happens in the last two days of the year, according to Network for Good's online giving study. That end-of-year rush can mainly be attributed to donors looking for some last-minute tax savings.
"It's traditional to think about charity in December and of course, it's the end of the tax year," Andresen said.
Still, with less than 48 hours left in the calendar year, it's unlikely this will be a substantially better year for charities after three years in a row of lackluster giving.
After sinking in 2008 and 2009, donations still lag far behind pre-recession levels. Total charitable contributions from individuals, corporations and foundations increased slightly in 2010 to $290.9 billion -- but remained below 2007's $310.6 billion, according to Giving USA, a foundation that tracks charitable contributions.
Although Geoffrey Brown, executive director of the organization, says it's still too early to say how 2011 will fare in comparison to last year, "giving is probably going to be flat, if anything," he noted.
Stagnant wage growth, high unemployment, Europe's debt crisis and uncertainty about the economy have weighed on donors, while the government has drawn down support substantially, explained Daniel Borochoff, president of the American Institute of Philanthropy.
"This year was a little better than last year, but, of course, last year wasn't so good," he said.
In a survey by the Chronicle of Philanthropy, 54% of 152 organizations said they raised more money in November and during the first part of December than they had at the same time last year. Nearly 60% of charities predicted they would have an overall gain in donations in 2011, while 28% said donations would fall this year.
"This was a year in which there were certainly disasters both at home and abroad, but not at the scale that we have seen in the past," explained Stacy Palmer, editor of the Chronicle of Philanthropy.
"Even Japan giving was small, it was nothing like the crisis in Haiti," she said referring to the earthquake and tsunami that rocked the Asian nation in March.