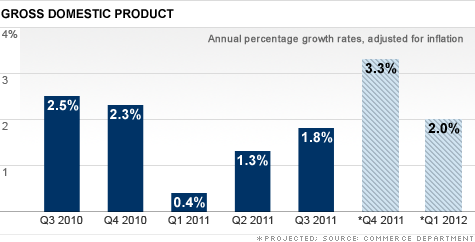 NEW YORK (CNNMoney) -- Economists are a bit more optimistic about the U.S. economy as 2011 comes to a close. But only a bit.
A CNNMoney survey of 20 top economists finds their fear of the economy falling into a new recession has retreated in the last three months, as they put the chances of a new downturn at only about 20%. Three months ago, they believed there was about a 30% chance. Only two of them have raised the risk of recession.
The economists also believe that the final economic readings will be among the strongest of 2011.
Gross domestic product, the broadest measure of the nation's overall economic health, is expected to have grown at a 3.3% annual rate. That would be the best pace of growth since the spring of 2010 and nearly twice the 1.8% rate in the third quarter.
"Preliminary data is pointing to a solid fourth quarter of GDP growth that should carry the economy through the next 6 months," said Sean Snaith, economics professor at the University of Central Florida.
The economists surveyed also expect that employers added 140,000 jobs to payrolls in December, which would mark the third straight month of improved hiring.
But they're not getting overly excited about the outlook for growth in 2012. Growth for the full year is expected to be a more modest 2.4%, with only 2% growth in the first three months of the year.
Employers are expected to add only 1.6 million jobs, which comes to less than the 150,000 a month needed to keep pace with population growth -- little changed from the expected gains in 2011 that left most economists and job seekers dissatisfied. The unemployment rate is forecast to edge down to 8.4% by the end of 2012, little changed from the current 8.6% rate.
Those surveyed also don't believe the prolonged slide in home values will come to an end in the new year, with most expecting that higher housing prices won't come until 2013 or later.
The economists are widely split on the biggest headwinds facing the economy going forward. The five who cite excess government debt make that the most popular choice, but four each pick continued weakness in the housing market and damage to the labor market by prolonged high unemployment.
And a variety volunteer their own risks, including those posed by the European sovereign debt crisis, Congressional gridlock and general uncertainty in the business conditions.