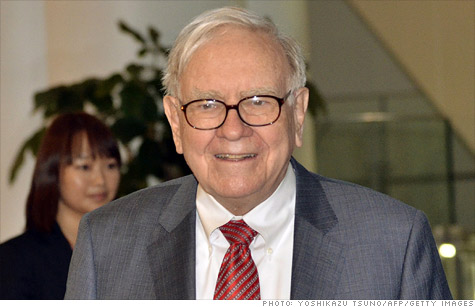 Warren Buffett's succession plan at Berkshire Hathaway remains unclear.
NEW YORK (CNNMoney) -- Shares of Warren Buffett's Berkshire Hathaway had a rare down year in 2011, even as the broader market stayed mostly flat.

Berkshire shares dropped 4.7% on the year, while the S&P 500 Index closed out 2011 essentially unchanged, just 0.003% from where it started.
Berkshire owns subsidiaries involved in a variety of businesses, including a significant presence in insurance and reinsurance.

Over the past two decades, Berkshire (BRKA, Fortune 500) shares have consistently performed well in difficult market conditions. Since January, 1992 the company's stock has gained more than thirteen-fold, while the S&P gained three-fold during the same period. Bloomberg originally noted Berkshire's rare down year earlier Tuesday.

This past year, however, concerns about the firm's plan for Buffett's successor as CEO weighed on the minds of investors, as did Berkshire's heavy derivatives losses, said Meyer Shields, director at Stifel Nicolaus & Company.

In March, David Sokol, Buffett's presumed heir-apparent, resigned amid questions about whether he violated insider-trading rules when he purchased shares in the chemical firm Lubrizol before Berkshire announced plans to buy the company.

While Buffett has said he's informed Berkshire's board of his recommendations for successor, the candidates have not been revealed publicly.

"The sense we had was that to the extent that anyone internally was being groomed, it was David Sokol, and that went badly," Shields said.

Berkshire's derivatives losses, which hit $2.4 billion through the first nine months of the year, also hurt the share price, Shields added.

In addition, the firm took a $1.9 billion pre-tax loss in the first six months of 2011 due to insurance costs associated with catastrophes including the massive earthquakes in Japan and New Zealand.

Berkshire did not return a request for comment Tuesday.