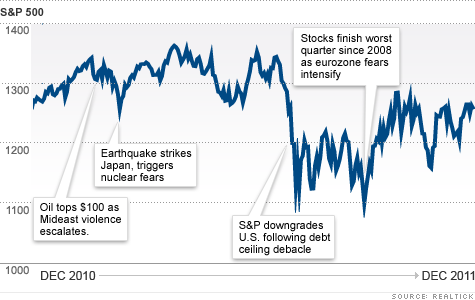 Click the chart for more stock market data.
NEW YORK (CNNMoney) -- From up 8% to down 12%, stocks finished 2011 with an annual change of 0.003%...about as flat as you can get.
The S&P 500 index finished 2011 less than a point away from where it ended 2010 -- 0.04 points down to be exact. That's the smallest annual change in history.
At its peak in April, the S&P had climbed more than 8%. But by October, at the lowest levels of the year, it was down more than 12%.
The Dow, meanwhile, rose 5.5% for the year, and the Nasdaq lost 1.8%.
The mixed finish marks the end of a two-year winning streak for stocks.
Investors are happy to put 2011 to bed. From unrest in the Middle East and Japan's devastating earthquake to Europe's worsening debt crisis to the ongoing bickering in Washington, stocks experienced some violent swings.
So it's little wonder that investors are thankful for a quiet end to the year. Stocks finished little changed Friday. The Dow Jones industrial average (INDU) fell 69 points, or 0.6%. The S&P 500 (SPX) dropped 5 points, or 0.4%, and the Nasdaq (COMP) fell 9 points, or 0.3%.
Despite the dull finish, the U.S. stock market's performance could have been a lot worse, if you consider the performance of global markets.
In Europe, Britain's FTSE 100 (UKX) lost 5.6% in 2011, while Germany's DAX (DAX) and France's CAC 40 (CAC40) dropped more than 15%.
In Asia, the Nikkei (N225) tumbled 17%, while the Shanghai Composite (SHCOMP) and Hang Seng (HSI) sank more than 20%.
The main reason the Dow fared better than the S&P is because financial stocks, which had a dismal year, carry less weight in the blue chip index than they do in the S&P 500.
The Dow is a price-weighted index, so the most influential companies are those with the highest share price.
For example, IBM's (IBM, Fortune 500) stock is priciest at around $185 per share, and it has an 11.5% weight in the Dow. IBM's 25% rise accounted for about 300 of the Dow's nearly 700 point gain in 2011, according to Paul Hickey, co-founder of Bespoke Investment group.
The stocks in the S&P 500, on the other hand, are weighted according to the market value, making IBM's weighting there less than 2%.
Because of the different weightings, financial stocks make up just 7% of the Dow, while they represent 14% of the S&P 500.
While stocks had lackluster year, Treasuries managed to log the best gains since 2008, according to the Bank of America Merrill Lynch U.S. Treasury Master index, which returned almost 10% this year.
In Friday trading, yields on the benchmark 10-year note 1.87% from 1.90% late Thursday.
Economy: A reading on December data showed Chinese manufacturing continued to slow. HSBC's final reading of its China purchasing managers index saw a 1-point increase to 48.7, but that figure remains below to 50 threshold for expansion of the sector.
Companies: Shares of American Airlines parent AMR Corp. (AMR, Fortune 500) plunged 32% Friday, following news that the company was being delisted from the NYSE as of Jan. 5.
The delisting is occurring because AMR's share price failed to average $1 over the past 30 days -- the minimum requirement set by the NYSE for listed stocks.
Shares of Yahoo (YHOO, Fortune 500) finished unchanged Friday, a day after spiking more than 2% following reports that China's Alibaba Group had hired a lobbying firm to prepare a bid for the U.S. web search pioneer.
World markets: Overseas stock markets closed a difficult year on a slightly positive note Friday.
In Europe, Britain's FTSE 100 (UKX) finished up 0.1%, Germany's DAX (DAX) edged up 0.9% and France's CAC 40 (CAC40) rose 0.4%. But for the year dominated by Europe's debt crisis, all three indexes ended in the red.
In Asia, the Shanghai Composite (SHCOMP) gained 1.2% on Friday, while the Hang Seng (HSI) in Hong Kong edged up 0.2% and Japan's Nikkei (N225) added 0.7%. All three indexes also posted declines for the year.
Currencies and commodities: The dollar rose agianst the the euro. The greenback slipped versus the British pound and the Japanese yen.
Oil for February delivery fell 82 cents to settle at $98.83 a barrel. Crude prices rose more than 8% in 2011, marking the third consecutive years of increases.
Gold futures for February delivery added $25.90, or 1.7%, to settle at $1,566.80 an ounce. That helped boost shares of gold ETF SPDR Gold Trust (GLD) as well as iShares Silver Trust (SLV). Gold prices rose more than 10% in 2011, logging an eleventh straight year of gains.