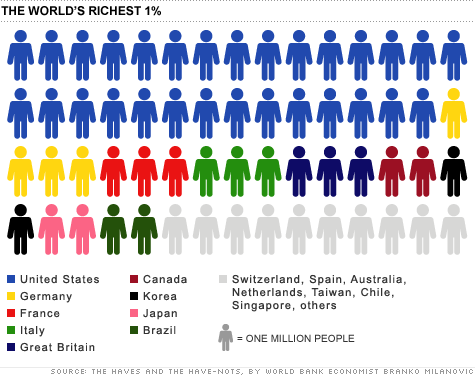 It only takes $34,000 per person to be amid the richest 1% of people in the world.
NEW YORK (CNNMoney) -- The United States holds a disproportionate amount of the world's rich people.
It only takes $34,000 a year, after taxes, to be among the richest 1% in the world. That's for each person living under the same roof, including children. (So a family of four, for example, needs to make $136,000.)
So where do these lucky rich people live? As of 2005 -- the most recent data available -- about half of them, or 29 million lived in the United States, according to calculations by World Bank economist Branko Milanovic in his book The Haves and the Have-Nots.
Another four million live in Germany. The rest are mainly scattered throughout Europe, Latin America and a few Asian countries. Statistically speaking, none live in Africa, China or India despite those being some of the most populous areas of the world.
The numbers put into perspective the idea of a rapidly growing global middle class.
Sure, China and India are seeing their economies grow quickly, and along with that growth, large portions of their populations are also becoming richer. But remember, the emerging world is starting from a very low base to begin with, so its middle class is just that -- still emerging, says Milanovic.
"It doesn't seem right to define as middle class, people who would be on food stamps in the United States," Milanovic said.
The true global middle class, falls far short of owning a home, having a car in a driveway, saving for retirement and sending their kids to college. In fact, people at the world's true middle -- as defined by median income -- live on just $1,225 a year. (And, yes, Milanovic's numbers are adjusted to account for different costs of living across the globe.)
In the grand scheme of things, even the poorest 5% of Americans are better off financially than two thirds of the entire world.