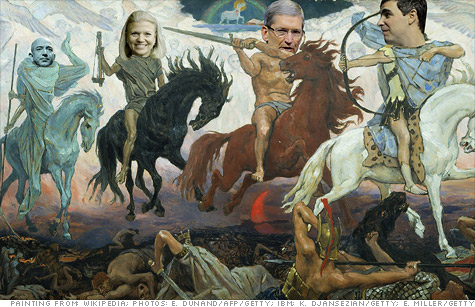 The four horsemen of tech from left to right: Amazon CEO Jeff Bezos, IBM CEO Ginni Rometty, Apple CEO Tim Cook and Google CEO Larry Page.
NEW YORK (CNNMoney) -- It's 2012, the year that many believe will mark the end of the world. But if the four horsemen of the Apocalypse don't show up, you might want to make some smart investments for the long haul with a different kind of four horsemen.
In the 1990s, Intel (INTC, Fortune 500), Microsoft (MSFT, Fortune 500), Dell (DELL, Fortune 500) and Cisco (CSCO, Fortune 500) were the so-called "four horsemen of tech" -- the high-profile public technology companies that were sure to return strong growth to investors year after year. For nearly two decades, all four held keys to technology's growth engine: the personal computer. Intel made the processors, Microsoft made the software, Dell made the PCs and Cisco networked them together.
But things have changed. The PC is no longer driving technology growth. Mobile phones, tablets, and cloud computing are blazing a new path.
So who should replace the old guard? We surveyed 30 technology experts, ranging from stock analysts to tech consultants to fund managers, asking them to pick four public companies (sorry, Facebook). We also polled thousands of our readers.
The results are clear: Apple (AAPL, Fortune 500), Google (GOOG, Fortune 500), Amazon (AMZN, Fortune 500) and IBM (IBM, Fortune 500) are the new four horsemen of tech. Unsurprisingly, all four companies are leaders in mobility or cloud computing.
Apple: The voting wasn't really that close. Apple was the clear leader, appearing on 84% of experts' ballots. It's no surprise: Apple is the most valuable technology company on the stock market, yet it is also one of the fastest-growing.
Apple is a frontrunner in the smartphone revolution, and its iPad created a new category of mobile computing.
"I think tablet computing is going to be one of the next 'big things' in tech, and Apple has a near monopoly on this market," said Zeus Kerravala, an independent tech analyst at ZK Research.
Apple is also embracing the other key technology trend with its high-profile iCloud.
Google: Of the experts we polled, 70% placed it in their top-four picks.
"Search is still the prevailing storm for monetization on the Web, and that will continue for the foreseeable future," said Michael Grossi, director at Altman Vilandrie & Co.
Of course, Google has grown way beyond being "just" a search company. Mobile and display advertising are each generating more than $1 billion a year for the company.
The Android operating system powers more smartphones than any other OS. And if the company's bid for Motorola Mobility (MMI) goes through, it will give Google control of both the hardware and software for its devices.
Amazon: Appearing on 57% of experts' ballots, Amazon is by far the lowest-valued company on the list. Its market cap is $80 billion. Google, the next-smallest, is valued at $170 billion.
But Amazon's sales are projected to grow faster than any of its other horsemen companions.
"Amazon's core market is still in its infancy, with just 5% of commerce taking place online," noted Steve Lidberg, director of research at Pacific Crest Securities. "The company is also poised to be the biggest disruptor in technology, with a business model that is supported by thin margins, providing the flexibility to make investment decisions that others may avoid."
The company sells Kindle e-book readers and tablets for no or little profit in order to support its retail and media businesses. But Amazon's biggest bet is happening in the cloud, with its Web services and hosting business.
"Today they are a retail outlet, with a foot in technology," said Vanessa Alvarez, analyst at Forrester Research. "Tomorrow, they'll be a technology company, running a retail business."
IBM: With 40% of experts' votes, IBM edged out Microsoft (37%) to become the fourth horseman.
Its SmartCloud technology is helping IBM deliver high-powered analytics to small businesses and governments, optimizing everything from road construction to call centers.
"The importance of analytics of all kinds and the depth of their portfolio in these areas is unrivalled," said Susan Feldman, analyst at IDC. "These technologies are vital to round out the understanding of what's going on and why."
The "big data" revolution that IBM is leading has led to multiple successful initiatives, including Smarter Planet and Watson, the Jeopardy! playing computer. That's one reason why the 100-year old company's stock rose by 25% last year.
No safe bets: In the tech market, icons can fall hard and fast. Shares of three of the four old horsemen are all down over the past 10 years, while Cisco is down substantially from where it was five years ago.
Meanwhile, the new horsemen have been a great 21st century investment. Apple's stock is up 3,650% over the past decade, and Amazon's is up 1,160%. Google has grown 550% since it went public in 2004. Even big, bad IBM is up 90% over the past 10 years.
But there are no guarantees. Just a few years ago, BlackBerry maker Research In Motion (RIMM) may have been on this list. Or Netflix (NFLX).
That led one analyst to choose "no one" for his four horsemen picks.
"There are no safe investments in technology right now," said Ed Zabitzsky, analyst at ACI Research. "I have never seen this much change at one time. Change brings market disruption and lower prices, and often it brings commoditization."