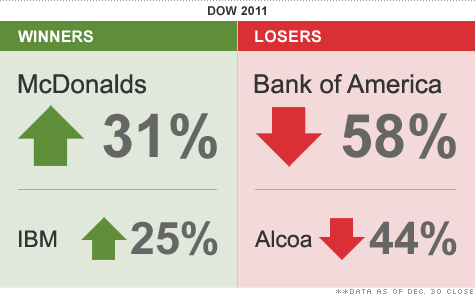 Click the chart to see how the rest of the Dow components fared.
NEW YORK (CNNMoney) -- When investors look at the change in McDonald's share price last year, they can think only one thing: "I'm lovin' it."
The fast food giant was the best performer on the Dow Jones industrial average (INDU) in 2011, up 31%. That was enough to beat out Warren Buffett's newest favorite, IBM (IBM, Fortune 500), No. 2 among the blue chip winners.
At the other end of the spectrum was Bank of America (BAC, Fortune 500), which suffered a 58% plunge to lows not seen since 2009. That slump gave it an easy win over Alcoa (AA, Fortune 500), whose shares lost 44%, in the competition for dubious distinction of 'biggest loser.'
But those troubled giants were the exception among Dow stocks in 2011.
Overall, the index rose 5.5% in 2011, outpacing the performance of not just the S&P 500 (SPX), down only 0.003%, but also the tech-heavy Nasdaq (COMP) and the broader Wilshire 5000 (W5000FLT), which finished the year lower.
And of the 30 Dow components, 18 finished in positive territory for the year.
McDonald's (MCD, Fortune 500) has been helped by strong sales both domestically and globally. Shares hit an all-time high of $100.82 this week before settling back a bit to close Friday at $100.33.
Meanwhile, No. 2 IBM had already achieved its run up by the time Buffett disclosed in November that Berkshire Hathaway (BRKA, Fortune 500) had purchased a 5% stake in the company. Its shares are down slightly since then but still managed a 25% gain for the year.
Buffett didn't do as well when he threw Bank of America a $5 billion lifeline, buying preferred shares of the troubled bank in a deal announced in August. Since then, the bank's stock has continued to slide, putting the investment in the red, even with the $300 million in annual dividends that Berkshire will pocket.
Bank of America has also been shrinking, announcing plans to shed 30,000 employees and close branches, and losing its title of the nation's largest bank to rival JPMorgan Chase (JPM, Fortune 500) in the third quarter. It was also forced to reverse course and drop a $5-a-month debit card fee after strong customer backlash.
In comparison to Bank of America's high profile problems, aluminum maker Alcoa's stock suffered a relatively quiet slide, as concerns about a looming recession in Europe and a possible slowdown in Chinese production hammered pricing and profits.
The company's third-quarter earnings miss added to its disappointing share performance.