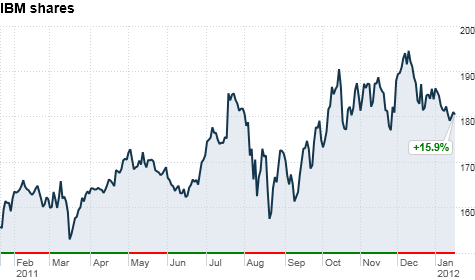 Click the chart to track IBM shares.
NEW YORK (CNNMoney) -- IBM began the Ginni Rometty era on a positive note, posting fourth-quarter earnings Thursday that beat estimates.
The tech giant reported a profit of $5.5 billion, an increase of 4% versus last year. Revenue for the quarter was $29.5 billion, just short of the consensus forecast of $29.7 billion from analysts surveyed by Thomson Reuters.
Excluding certain charges, earnings per share came in at $4.71, ahead of estimates of $4.62. The company has a reputation for consistently beating Wall Street expectations.
Shares of IBM were up 2.5% in after-hours trading.
Thursday's earnings announcement is the first since Rometty, formerly the company's senior vice president for sales, marketing and strategy, became CEO. IBM announced in October that Sam Palmisano would be stepping down as CEO after nearly a decade at the helm of the firm.
Palmisano had an extremely successful tenure, transforming the company from a systems-and-services firm into a supercomputing and analytics powerhouse and presiding over revenue that more than quadrupled.
IBM's businesses include software and hardware development, along with consulting and IT services. Investors tend to view the company's earnings as indicative of overall corporate technology spending and demand.

The firm, which celebrated its 100th anniversary last year, has said it is aiming to hit annual earnings of at least $20 per share by 2015. To put that in perspective, IBM earned $13.44 a share in 2011 and is expected to earn $14.82 a share in 2012.
Rometty said in a statement that IBM was "well on track" toward meeting the 2015 earnings goal.
Net income for 2011 was $16.3 billion, a 9% increase from the year prior. Thursday's announcement follows a rare misfire last quarter, when IBM reported a 7% increase in earnings but missed forecasts on revenue.
The firm seems to have been spared from the worst headwinds of the European debt crisis in the last few months of the year, reporting a 1% increase in fourth-quarter revenues from Europe, the Middle East and Africa. Revenue in the Americas was up 3%, while Asia-Pacific sales were up 2%.
Among the company's various divisions, software revenue was up 9% for the quarter, while Global Technology Services Revenue was up 3%.
IBM (IBM, Fortune 500) was one of the best performers in the Dow last year, with shares up roughly 16% versus a year ago. That's a stark contrast to Hewlett-Packard, one of IBM's top competitors in software and services.

Shares of HP (HPQ, Fortune 500) are down more than 40% over the past year, and in September, the firm fired CEO Leo Apotheker after less than a year on the job.
IBM's earnings announcement came on a busy for tech companies. Google (GOOG, Fortune 500), Intel (INTC, Fortune 500) and Microsoft (MSFT, Fortune 500) also announced their quarterly results after the bell on Thursday.