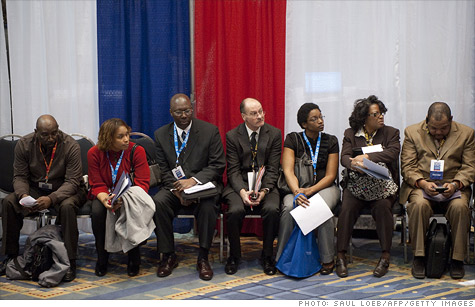 Job seekers sit in line to speak with coaches about polishing their résumés at a career fair in Washington D.C.
NEW YORK (CNNMoney) -- After plunging the week before, first-time claims for unemployment benefits ticked up last week.
The Labor Department reported Thursday that 377,000 people filed for initial unemployment benefits in the week ended Jan. 21, up 21,000 from a revised reading of 356,000 claims the week before.
The slight bump up is not necessarily a bad sign for the job market. Economists were expecting to see claims head higher after they dropped significantly the week before. While the week-to-week data tend to be volatile, the overall trend continues to show improvement.
"A clear increase this week was in the cards," Ian Shepherdson, chief U.S. economist with High Frequency Economics said in a note to clients. "What counts, though, is the trend, not individual weekly observations. And the trend is clearly downward."
The four-week moving average, which smooths out weekly choppiness, is still hovering near its lowest level since 2008. In general, weekly initial jobless claims below 400,000 are typically seen as a sign that hiring is strengthening.
Amid the worst of the recession, unemployment offices around the country were at one point processing as many as 659,000 initial claims per week.
That said, the job market is still not fully healed either, and millions of Americans remain on the unemployment rolls.
About 3.6 million people filed for their second week of unemployment benefits or more in the week ended Jan. 14, the most recent data available.