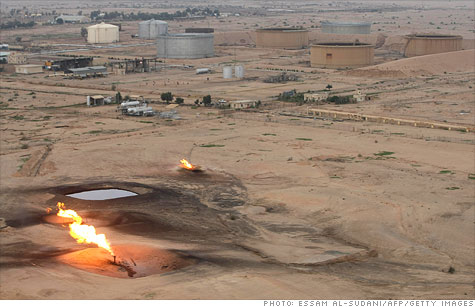 Uptick in violence post-U.S. withdrawal sparks fears that Iraq may not be able to deliver on its lofty oil production targets.
NEW YORK (CNNMoney) -- The deteriorating situation in Iraq is leading some analysts to worry that the country may not be able to meet its lofty goals for rapidly ramping up oil production.
Violence in Iraq is a big problem, especially for the people who live there.
But it's an issue for oil markets because increased oil output from Iraq is supposed to offset rising demand from places like India and China. Iraq's ability to deliver on that oil is one reason oil prices haven't jumped even higher than they are now.
But after U.S. troops left the country in December the number of attacks has increased. At least 63 civilians were killed in attacks in December, the highest amount in three months.
While attacks are still far below levels seen in the years after the U.S. invasion, there are also signs of rising instability within the central government.
There's a "potential for the insurgency to re ignite and even become a civil war...and oil infrastructure could be the target," Deutsche Bank analysts wrote in a recent research note. "To us, the rapidly rising tension in Iraq is more potentially damaging for world oil markets than the headline-grabbing situation in Iran."
Oil production in Iraq is expected to rise by nearly 2 million barrels a day over the next five years, according to Deutsche Bank. That, the bank said, would represent 70% of OPEC's production growth. Iraq currently produces about 2.7 million barrels per day, according to the U.S. Energy information Administration.
But in order for that to happen, Iraq's fields need extensive repairs following decades of war and under investment.
A host of international oil companies have been contracted for the job, including Exxon Mobil (XOM, Fortune 500), Royal Dutch Shell (RDSA) and BP (BP). But how effectively they can operate depends on conditions on the ground.
"People are worried about a spillover in violence," said Tim Daniel, an executive at International SOS, a company that provides medical services to international firms in unstable regions. "It could make it hard to move people in and out."
One immediate change for the international oil firms operating in Iraq is they no longer have the U.S. military to rely on in times of trouble.
"There's no medevac helicopters, no compatible hospitals, no rapid reaction force," he said. 'You're on your own now."
So the oil firms and others in Iraq now contract with company's like Daniel's, which stations a paramedic with groups of oil company employees and then has an airplane waiting to fly wounded workers to neighboring Dubai or Abu Dhabi for treatment in the event of a serious injury.
This situation is not an impossible one for oil companies to operate in -- they have been doing business in hostile environments for decades.
But the loss of the U.S. military combined with an increasingly unstable situation in Iraq is making people nervous.
"We haven't heard of people pulling out," said Daniel. "But they are making contingency plans."
For some, it's the increasingly dire political situation that's more problematic than the violence.
"The government is slowly fracturing," said Andreas Carleton-Smith, managing director of Middle East operations for Control Risks, a consultancy. "The political risks are far more serious than the security risks."
Of course, political risk could lead to serious security risks, especially in a worst-case civil war-type scenario.
But political risk can also manifest itself in a crushing bureaucracy, or simply the inability to get something done because the government office that's supposed to approve something no longer exists. This type of situation has also become more common in Iraq.
"It's becoming more difficult to work here," said Carleton-Smith.
Ultimately though, he's an optimist, preferring to believe the Iraqi's who are tired of years of war, will eventually get things together and develop their vast oil reserves.
That sentiment is shared by others in the country.
"The oil sector's infrastructure is in some of the best protected parts of the country," said Ben Lando, Baghdad-based bureau chief of the industry newsletter the Iraq Oil Report. The recent violence is "not going to impact it."