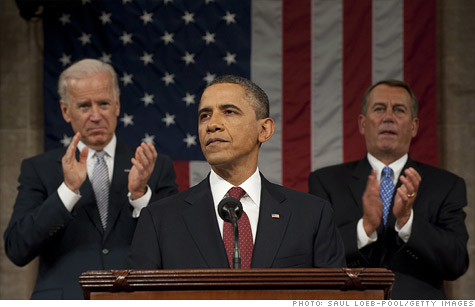 President Obama at the State of the Union.
NEW YORK (CNNMoney) -- The January jobs report contains a slew of numbers that are likely to put a twinkle in the eye of Obama campaign staffers.
The unemployment rate dropped to 8.3%, the lowest it's been since February 2009. The private sector added jobs for the 23rd straight month. And about a million more people say they have jobs now than in October, which is the biggest 3-month change since before the recession.
The jobs report -- which surprised economists -- is great news for Obama. The unemployment rate plays an important role in campaign rhetoric, and the closer it drops to 7.8% -- the rate when Obama took office in January 2009 -- the better it is for the White House.
But even if the unemployment rate gets back to 7.8%, that might not be enough to save Obama's job. No president since Franklin D. Roosevelt has won re-election with an unemployment rate over 7.2%.
Of course that's just one data point. Still, there are plenty of reasons for the White House to keep the champagne on ice.
The Congressional Budget Office released forecasts earlier this week that project the unemployment rate will average 8.8% this year.
"Although conditions in the labor market have improved somewhat in recent months, considerable slack remains, largely as a consequence of the continued weakness in the demand for goods and services," the CBO said.
And the Federal Reserve last week said it forecasts the unemployment rate to remain between 8.2% and 8.5% in 2012. Fed chairman Ben Bernanke continues to characterize the recovery as "frustratingly slow."
Still, Alan Krueger, chairman of the White House's Council of Economic Advisers, said in a statement that the jobs report "provides further evidence that the economy is continuing to heal."
Naturally, not everyone agrees.
Mitt Romney, one of the Republicans most likely to challenge Obama in the fall, was not so rosy, saying in a statement that "these numbers cannot hide the fact that President Obama's policies have prevented a true economic recovery. We can do better."
Experts say it would be a mistake to put too much emphasis on the unemployment rate. A more useful predictor of electoral success is how Americans feel about the economy.
And there, the news isn't so good for the White House.
According to an NBC News/Wall Street Journal poll conducted late last month, only 45% of Americans approve of the way Obama is handling the economy, while 50% disapprove.
Another factor to consider: The road to the White House goes through a select number of swing states.
Voters in hard-hit states like Michigan, Nevada, Virginia, Florida, Ohio and Indiana will decide the election.
In general, the job market has a long way to go to fully recover from the financial crisis. The economy still needs to add about 5.6 million jobs to get back to 2008 employment levels.