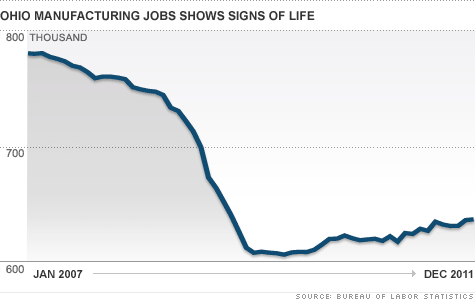 NEW YORK (CNNMoney) -- It's boom times once again for Ohio's manufacturing industry.
Manufacturing, the largest sector in the Buckeye State's economy, is revving up production and employment after being hit hard by the Great Recession.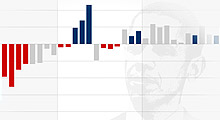 The U.S. lost 4.3 million jobs in President Obama's first 13 months in office. Track his progress since then.
The health of Ohio's economy will be on the minds of many residents as they head to the polls on Super Tuesday to pick a Republican nominee for president. The future of American manufacturing is likely to play an even bigger role in November's general election, since President Obama has been championing the sector as a vital element of the nation's recovery.
The revival in Ohio is being fueled by the return of the American auto industry, the growth of energy production in the U.S. and the skyrocketing demand for steel and other building materials overseas.
"Ohio's recovery has been driven by manufacturing," said Eric Burkland, president of the Ohio Manufacturers Association. "There is enormous investment in new technology and new plants."
But the news is not all good.
While manufacturers have been adding workers, the sector's employment is not expected to ever return to pre-recession levels. That's because new technology and productivity increases have diminished the need for workers on the factory floor.
Factory rebirth
Manufacturing has long been a cornerstone of Ohio, accounting for about a sixth of the state's economy. And it ranks third in the nation in manufacturing employment and output.
After taking a good hit during the recession, the Ohio manufacturing industry has rebounded strongly in the past year or so, said Kristi Tanner, general manager for manufacturing at JobsOhio, the state's privatized economic development organization.
The sector accounts for about a quarter of the state's job growth over the past two years, while it has increased output by $8 billion, or 12%.
Companies are rebuilding their inventories, increasing capacity and relocating jobs back to the U.S. from India, Mexico and Asia, she said. Many employers are finding it cheaper and easier to produce products for North America in the U.S.
Ohio has the logistical advantage that it's within 600 miles of 70% of North America's manufacturers and 61% of the continent's population, Tanner said. She is focused on enticing companies that service the automotive, aerospace, shale oil, green technology and biotechnology industries to expand or relocate to the state.
"Ohio is well poised to be a leader in bringing back manufacturing jobs to the U.S.," she said.
Republic Steel, for instance, chose to create 450 jobs in Ohio, rather than in Mexico or elsewhere. And Whirlpool moved 65 production jobs from Asia to the state and is looking to bring back production from Europe.
The Timken Company is one of the companies contributing to the revival of the state's economy. The Canton-based industrial manufacturer had a record year in 2011.
Its steel division, which operates entirely in Stark County, is once again functioning at full capacity and on an around-the-clock schedule as it did before the Great Recession, said Sal Miraglia, who heads Timken's steel group. It now employs 2,000 people, about 200 more than it did before the economic downturn.
This is a major change from only three years ago, when it cut its schedule by one-third and had only about 400 workers on any given week.
Miraglia credits the infrastructure boom in China and India, as well as the worldwide demand for mining and energy products, especially oil and gas, for restoring his division's health. His company just agreed to invest a nearly quarter-billion dollars in its Faircrest Steel Plant in Stark County to improve productivity, expand its product range and increase capacity.
"We view this demand for the kind of manufacturing products that help build infrastructure as real and solid," he said. "It's not a momentary or temporary situation."
Jobs not all coming back
While the outlook for Ohio's manufacturing sector looks rosy, the picture is not so bright for many workers who have been laid off.
Just under 640,000 people are employed in Ohio's manufacturing industry, about 12% of the state's workforce. While that's up from a low of 609,000 in late 2009, it's still a far cry from the 780,000 jobs that existed at the start of 2007. Over the past decade, the state has lost one-third of its manufacturing positions.
Going forward, companies will likely boost their payrolls somewhat as they ramp up production, said Zachary Sears, economist for Moody's Analytics. He predicts employment will peak at 668,500 in 2016.
But companies don't need as many workers as they did in the past, thanks in part to technology.
"You have a lot of people with specific skills and there's just not a lot of demand for them," said Hank Robison, chief economist with Economic Modeling Specialists Inc, known as EMSI.
So while output will reach pre-recession levels by 2015 and continue growing from there, employees won't see all those gains. In fact, he expects there will be fewer manufacturing workers in 2022 than there are today.
"There have been significant productivity gains achieved in recent years, allowing employers to do more with fewer employees," Sears said.