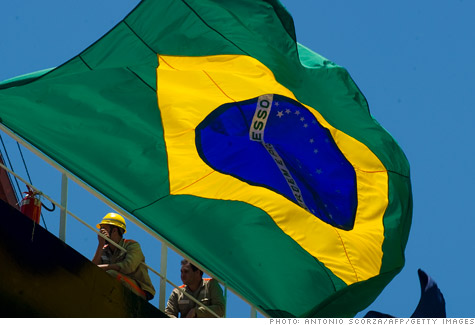 On the up and up.
NEW YORK (CNNMoney) -- Despite battling slower growth of its own, Brazil's economy surpassed that of the sputtering United Kingdom in 2011, according to a new estimate from the Centre for Economics and Business Research.
Brazil's Gross Domestic Product for the year was $2.469 trillion, according to the study -- making it the sixth-largest economy in the world.
Brazil eked ahead of the United Kingdom -- which had total production of $2.420 trillion -- by a razor-thin margin of only $49.2 billion.
"Brazil has a large workforce and extensive natural resources," said Tim Ohlenburg, a senior economist at CEBR. "It's set to grow faster than most European countries."
Still, the year wasn't all roses for the South American powerhouse. Growth slowed to only 2.7% in 2011, a sharp decline from the 7.5% rate registered in 2010.
The UK grew at only 0.8% last year, and the island nation's economy actually contracted slightly in the fourth quarter.
The United States, China, Japan, Germany and France remain the five largest economies in the world.
But France would do well to watch its back. According to Ohlenburg, it won't be long before Brazil surpasses it for fifth in the world.
"Brazil is not that far behind France," he said. "Despite slower growth, it showed plenty of overall strength and great growth potential."
Slow growth in 2011 spurred Brazil's central bank to go on a interest rate-cutting spree in an effort to revive the country's faltering economy, despite the fact that inflation is still a major concern.
Brazil's central bank is scheduled to meet Wednesday, and another cut is widely expected from the current 10.5% rate.
Brazil is the only one of the so-called BRIC -- Brazil, Russia, India and China -- nations to show slower growth recently.
Earlier this week, Chinese Premier Wen Jiabao set a lower target for China's economic growth, underscoring the need to make the country's breakneck development more sustainable.
The government is aiming for economic growth of 7.5% in 2012, Wen said, lower than the goal for last year of about 8%.
Even the rapidly growing Chinese economy has a long way to go before catching up to the United States, which recorded GDP in excess of $14 trillion in 2011.