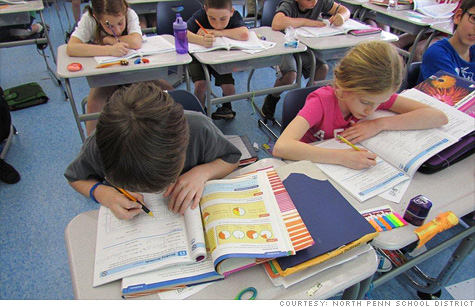 North Penn School District outside of Philadelphia is facing $2.5 million in budget cuts.
NEW YORK (CNNMoney) -- Don't tell school districts that the economy is picking up.
Many are still too busy figuring out how they are going to teach their students with diminished resources.
More than eight in 10 districts say they are inadequately funded, and more than half anticipate a decrease in state and local revenues for the coming school year, according to a recent survey from the American Association of School Administrators.
Even in districts where state aid is stabilizing, local funding is shrinking or costs are rising faster than revenues. Many are only now feeling the effects of the housing bust as towns lower property assessments, which affects the property tax revenues that many schools depend on.
Yet another year of cuts is prompting a greater share of districts to slash teachers, classes and more. Two-thirds of districts expect to eliminate positions in 2012-13, while one-quarter are looking at furloughs.
Some 57% anticipate having to increase class size. More than 48% say they may have to eliminate or delay instruction improvements, such as updating textbooks, computers and science labs. Nearly three in 10 are considering canceling summer school.
"The cuts are so drastic because those who have already made cuts have already made the easy ones," said Noelle Ellerson, the association's assistant director.
Tough choices
The recovery has yet to come to Wicomico County, a rural area in eastern Maryland. Tax revenue is up only slightly and unemployment remains high.
So Superintendent John Fredericksen is struggling to find another way to slash $1.8 million, about 1.5%, out of his district's budget after cutting millions more in recent years. He's trying to do it without affecting the children, who are already packed tighter into classrooms than their peers in neighboring districts.
This coming year, Wicomico will charge many kids $2,000 to go to pre-K instead of letting them in for free. It plans to close its buildings on Fridays in the summertime, and it will hold onto its vehicles for up to 15 years instead of 12. The district also hopes to save $900,000 through an early retirement incentive plan.
Fredericksen had hoped the cuts would be over by now.
"I thought I was at the end of my last straw last year," he said.
North Penn School District outside of Philadelphia isn't as fortunate. To reduce its budget by $2.5 million, or about 1.3%, it will have to make cuts that the students will feel.
"We're just starting to see a few months of positive economic data in our community," said Superintendent Curtis Dietrich. "It's too soon to plan it into our budgets."
As a result, administrators are targeting elective classes, assistant coaches and clubs for the coming school year. The district may also cut back on paying for students to travel to debate team, mock trial, music competitions and the like. It could also consolidate certain classes, such as art, and not replace retiring and departing staffers.
The North Penn School District already cut 5% of its teachers, 6% of support staff and 14% of its administrators this current school year. But it's also feeling the pinch from higher pension contribution costs.
The story is similar in Seminole County, Fla., which is still reeling from last year's budget slashing. Though the suburban district north of Orlando is getting more money from the state, it still has to cut more than $16 million, or 3.8%, for the coming year.
So when kids return in the fall, they'll find fewer elective classes, such as art, music and languages, said Superintendent Bill Vogel. There will be 50 fewer teachers and 20% fewer coaches, which will hit the junior varsity and 9th grade teams particularly hard.
Vogel is especially concerned about the district's inability to upgrade its technology due to lack of funds. It needs to do that to better prepare students for the innovation industry jobs in its backyard.
"The stabilizing or improvement in the economy? We have not felt that at this point," he said.