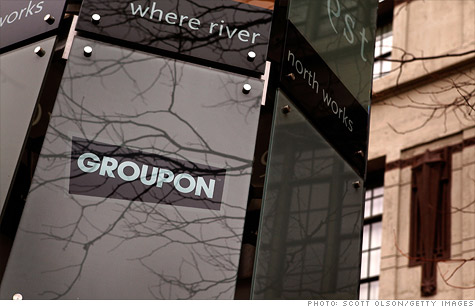 NEW YORK (CNNMoney) -- If you thought that going public would end Groupon's parade of financial restatements, you'd be wrong.
In a double-bomb announcement on Friday, Groupon was forced to revise its fourth-quarter income and sales lower, thanks to a higher rate of customers asking for refunds.
Groupon (GRPN) said that its fourth-quarter offerings included a growing number of more expensive deals, for which more customers tend to demand a refund. The company had to go back and retroactively beef up its reserve fund, which cut its fourth-quarter sales and widened losses.
Now, Groupon is recording a loss of $65 million on sales of $492 million, a wider loss than the $43 million loss it previously reported on sales of $507 million.
The company said it has updated its refund model and thinks the new version will be more accurate.
Adding salt to the wound, Groupon revealed that its independent auditor uttered the dreaded phrase "material weakness."
Ernst & Young's 2011 audit report report found that Groupon has a deficiency in its financial statement close process, which covers the steps companies go through at the end of each quarter to ensure that all of their financial transactions have been accurately recorded and reported.
Groupon said it is working on a fix, including hiring more financial staffers and developing "formal policies" and "documented procedures."
Despite the setbacks, Groupon affirmed its guidance for the current quarter, saying it still expects first-quarter sales of $510 million to $550 million, and income from operations of $15 million to $35 million.
As soon as Groupon disclosed its financials in its June 2011 IPO filing, critics slammed the company for its unorthodox accounting measures. That led to several downward revisions of Groupon's financials as it adopted more conventional metrics.
Those restatements effectively cut Groupon's reported sales in half to $688 million for the first half of 2011, down from the $1.5 billion it initially claimed.
Despite all that, Groupon shares soared about 31% on their debut day, at one point topping $31 a share. Since then, they have fallen back, and finished trading Friday at $18.38.