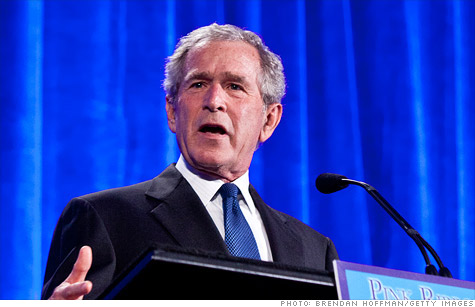 Former President George W. Bush.
NEW YORK (CNNMoney) -- Former President George W. Bush said Tuesday he wishes his name wasn't so firmly attached to one of his administration's signature pieces of legislation -- the broad-based tax cuts set to expire at the end of this year.
"I wish they weren't called the Bush tax cuts. If they were called someone else's tax cuts, they'd be less likely to be raised," he said in introductory remarks at a conference at the New York Historical Society.
The former president repeated the argument often used by Republicans -- that eliminating those tax cuts for the wealthy, as Democrats have proposed, would hit small businesses and hurt hiring.
"If you raise taxes on these so-called rich, you're really raising taxes on the job creators," he said at the conference, which was sponsored by the Bush Institute, which he opened after leaving office. "And if the goal is to create private sector growth, you have to recognize that the best way is to leave capital in the treasuries of the job creators."
Unlike many Republicans who have made harsh criticisms of President Obama, Bush did not criticize his successor by name, saying, "I don't believe it's in the interest of our country to undermine our president and I don't intend to do so."
But it is clear he disagrees with Obama administration proposals to allow the tax cuts to expire on households earning more than $250,000, and to enact a so-called Buffett rule, which would require wealthy folks like investor Warren Buffett to pay a higher percentage of their income in federal taxes than middle-class households.
President Obama plans to speak later Tuesday in Florida about the Buffett rule and his proposal for higher taxes on the rich.
Bush said his institute will release a book this summer laying out what he described as a pro-growth economic and tax policy that will result in 4% economic growth. The book includes contributions from 21 economists, including five Nobel Prize winners.
"It's got to be a staggering thing for some of the cynics. I publish a book, and now the Bush Institute is publishing a book. They didn't think I could read, much less write a book," he said, sparking laughter in the crowd.