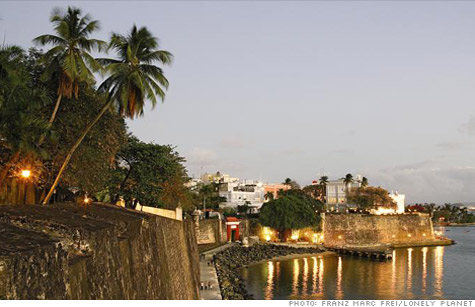 (Money Magazine) -- Rather than wait until the summer for your next vacation, take off before Memorial Day. The smaller crowds -- and big savings -- are well worth the rush.
Beat the pack to Europe: Early to mid-May is a great time to visit the French Riviera, says Expedia analyst Jeremy Boore. Average May highs in Nice reach 72 degrees, but the beaches aren't yet elbow-to-elbow with sunbathers.
Round-trip flights from New York City and a week at a three-star hotel start at $1,230 per person -- about 35% less than in June or July.
Another value: Dublin. Visiting in May, according to Hotwire.com, runs 20% less than in June.
Pick a package: Don't have a particular destination in mind for a springtime jaunt? Sign up for Travelzoo.com's weekly e-newsletter filled with flight-and-lodging packages, with availability ranging from days to months in advance. Based on prior years, you can save 30% to 50% over à la carte pricing.
Some promising destinations this year: Hawaii, Aruba, Iceland, Mexico, and continental U.S. spots from Colorado to the Carolinas.
Resort to the Caribbean for savings: Once the peak winter season fades, and before hurricane season begins on June 1, Caribbean resorts regularly offer great deals.
A recent May package to Puerto Rico (including airfare from New York City and four nights at the beachfront Wyndham Rio Mar Beach Resort & Spa) was priced on the site CheapCaribbean.com at $508 per person -- 24% less than the April rate. You may have some rain in the afternoon, but showers typically pass quickly.
Lost & found
Whether it's a camera, iPad, or eyeglasses, losing valuables while traveling is a sure way to derail your fun. So take these steps to increase the chances your lost items make it back home safely.
Before you go: Record serial numbers. Label items with contact info, or use tracking services such as ImHonest.com (starts at $15 a year). You'll get stickers with a toll-free number for finders to call.
At the airport: Tell airline staff in person at the flight gate (or the baggage-claim office, if you've left the secure area). That's a lot easier than getting help over the phone after you've left the airport.
Back home: Go to Ifoundyourcamera.net, a website where Good Samaritans submit photos from cameras or memory cards they've found -- and return the hardware, once the owner gets in touch.
Do you know a Money Hero? Money magazine is celebrating people, both famous and unsung, who have done extraordinary work to improve others' financial well-being. Nominate your Money Hero.