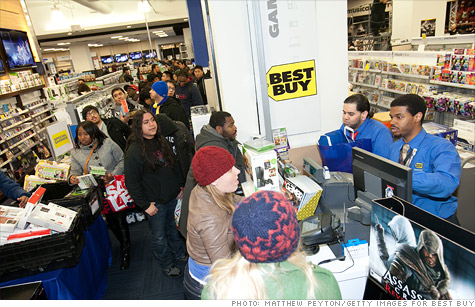 NEW YORK (CNNMoney) -- Bad news for Best Buy means deals for shoppers. But don't expect to walk away with the steal of the century on an iPad or brand new 60-inch HDTV.
The electronics retailer plans to shutter 50 locations by the end of the year. While some smaller merchandise will be marked down, most big-ticket items will be moved to Best Buy's other 1,105 stores that will remain open.
"Going-out-of-business sales for part of a retail chain are not necessarily a place where consumers are going to find a great deal," said NPD analyst Stephen Baker. "Don't think you're going to get an iPhone for 75% off."
As of Sunday, all of the ill-fated Best Buy (BBY, Fortune 500) locations started marking down merchandise, according to spokeswoman Kelly Groehler, although the deals vary by location.
The Best Buy in Antioch, Tenn. is offering 20% off smaller items like cell-phone accessories, batteries, video games and cables. But the sought-after televisions and tablets are being moved to other stores that will remain in business, according to a sales associate.
The Fayetteville, Ga. location is discounting its display televisions by just 10% to 15% and also taking 10% off of software and pre-owned games.
But the discounts will likely only go so far. According to a Best Buy associate at the Richmond, Va. location, there will be no further markdowns beyond the current 20% discount.
"This is just a fraction of Best Buy's stores so I wouldn't expect much of a sale, most merchandise will be transferred," said Candace Corlett of WSL Strategic Retail, a New York-based consulting firm.
Although the discounts are limited, they may still be worthwhile. To score those deals, Baker recommends going early.
"The most desirable things tend to sell out right at the very beginning," he said. "After that, what's left are the least desirable brands, older technologies and product categories that aren't very popular, like scanners," he said.
And despite the allure of a markdown, Baker says shoppers should still comparison shop for the best price and model before buying, including checking reviews and product specifications on sites like CNET or Consumer Reports. "When buying electronics, do your research."
Groehler recommends calling the closest soon-to-be-shuttered Best Buy to ask about what's on sale. (See full list of store closings.) Marked-down items, with the exception of floor samples, are not final sale and can be returned to another Best Buy within 30 days, according to the company.