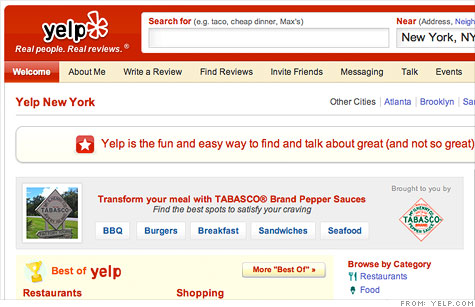 NEW YORK (CNNMoney) -- Reviews site Yelp used its status as a newly public company to ramp up its international expansion -- a plan that comes with a steep cost.
Yelp (YELP) reported a net loss of $9.8 million, or 31 cents per share, for the first quarter of 2012, its first as a publicly traded company. That's more than triple its net loss of $2.7 million in the same period last year.
Sales grew 66% over the year to $27.4 million. Analysts polled by Thomson Reuters expected Yelp to lose 31 cents per share on sales of $25 million.
Though Yelp's losses are widening, the company did offer a better-than-expected outlook for both the current quarter and the full year. Yelp expects sales of about $30 million for the second quarter and about $130 million for all of 2012.
Founded in 2004, Yelp has amassed nearly 28 million reviews of restaurants, salons, dentists and other businesses. Last quarter, about 71 million unique visitors went to Yelp's site each month.
Shares of Yelp soared 60% in their debut day in March, but they fell 15% throughout April.
Critics have questioned Yelp's high operating costs, as well as its ability to stay competitive in a field with a low barrier to entry.
International: Yelp's main revenue stream is selling advertising to local and national businesses, and the company has been investing heavily to expand its reach. Yelp launched in 11 new locations in the first quarter, for a total of 82 active markets.
Of those 11 new markets, eight were outside the U.S., including Antwerp, Sydney and Brussels.
Rob Krolik, who signed on as Yelp's CFO in July, spent a good portion of the company's conference call with analysts talking about the international expansion.
Virtually no revenue came from overseas markets last quarter, Krolik said, but Yelp sees international spending "as an investment."
Meanwhile, Yelp is ramping up its other sources of revenue. Yelp co-founder and CEO Jeremy Stoppelman talked up brand partnerships with Mercedes-Benz and Lexus, as well as integration with the Apple (AAPL, Fortune 500) iPhone's Siri voice assistant. In addition, Yelp introduced dashboard metrics for business owners' accounts.
Like many other tech companies testing the public markets in the past few months, Yelp isn't yet profitable -- and its losses are widening. For the full year in 2011, Yelp had a net loss of $16.7 million on sales of $83.3 million. In 2010, Yelp lost $9.6 million on $47.7 million in revenue.
Stoppelman talked extensively about the value of Yelp's brand and its focus on "strengthening ties" within its user community. As part of that goal, Yelp will soon launch "Yelp Passport" in 30 markets. The program is meant to "rally users around a specific part of a city," drawing attention to local businesses and urging users to meet in person.
The 2011 class of tech IPOs: Investors may not be spooked by any of the potential problems, if the recent performances of other social media IPOs are any indication. Last year, several Internet companies went public despite questions about their business models.
Shares of the contractor-focused Angie's List (ANGI), another reviews site, jumped 33% when the company debuted in August. But the momentum slowed, and shares are now trading just above their offering price.
Social gaming company Zynga (ZNGA) raised $1 billion in December from its IPO. Although the stock had a lukewarm debut, it picked up steam after reporting solid results, but trading has swung wildly in 2012. Shares ended trading on Wednesday at $8.96, down about 10% from their $10 IPO price.
Business networking site LinkedIn (LNKD) has done well since going public last summer. Its shares are on a tear, up nearly 70% this year.
Shares of daily-deals site Groupon (GRPN) popped 31% in its November debut, despite criticism of unorthodox accounting measures that led to several downward revisions of its financials.
But Groupon's stock has fallen this year amid a spate of bad news. After the company reported a fourth-quarter loss, it then had to revise the quarter's income and sales even lower thanks to higher-than-expected refund rates. In addition, Groupon revealed that its independent auditor Ernst & Young found "material weakness" in the company's financial statement close process. Two company board members recently announced their exits.
Investors are awaiting the debut of Facebook, which filed for a $5 billion IPO in February.