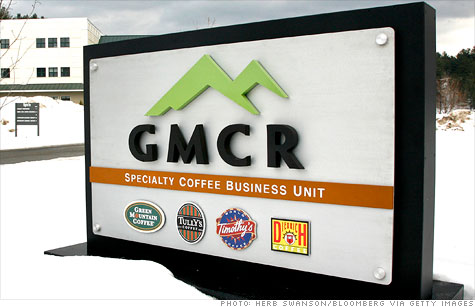 Robert Stiller founded Green Mountain in 1981.
NEW YORK (CNNMoney) -- The founder and chairman of Green Mountain Coffee Roasters was removed from his position Tuesday after making stock sales in violation of company policy.
Green Mountain chairman Robert Stiller, who served as the firm's CEO until 2007, was demoted along with William Davis, the company's lead director. Both will remain on the board but will no longer serve on any board committees or receive payment, Green Mountain said in a statement.
The men were sanctioned after selling Green Mountain (GMCR) stock in the past week during a time when company insiders were banned from doing so, per the firm's internal policy.
Davis and Stiller were forced to make the sales because of the terms of loans they had secured with Green Mountain stock. Shares of the company have plunged nearly 50% over the past week following a poor earnings report on Wednesday, which triggered margin calls on Stiller and Davis.
A Green Mountain spokeswoman said that while the sales violated company policy, "We are not aware of any securities laws which these trades would violate." A spokesman for the Securities and Exchange Commission declined to comment.
Company insiders are often barred from selling stock during certain windows surrounding sensitive events like earnings announcements or corporate stock offerings.
Stiller sold more than $125 million worth of Green Mountain stock on Monday as the result of a margin call, according to an SEC filing.
"These forced sales are disappointing and beyond the control of the company," Green Mountain said in a statement. "Once the board was notified of this trading activity, it moved quickly to investigate and address this matter."
Michael Mardy, a director and chair of Green Mountain's Audit and Finance Committee, has been appointed interim chairman of the board, replacing Stiller, the company said.
Green Mountain shares fell 3% in after-hours trading Tuesday.
It's been a tumultuous year for the company, a leader in the single-serving coffee market with its popular Keurig, or K-Cup, machines.
Green Mountain's stock recorded strong gains for most of 2011, but tanked last fall after hedge fund manager David Einhorn outlined a case for why the firm would see its market share crumble, citing its expiring patents. He also raised concerns about Green Mountain's accounting.
More recently, Green Mountain's stock took a hit after Starbucks (SBUX, Fortune 500) unveiled its own single-cup home-brewing machine. Shares gained some ground back after the two companies announced they were joining forces to sell Starbucks-branded single-serving coffee packs for Green Mountain's newest coffee machine, the Vue.