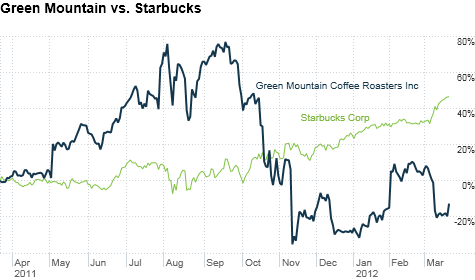 Green Mountain's shares had been on a 5-year tear until last fall when fears over the expiration of its patents frightened investors. Click chart for more on Green Mountain.
NEW YORK (CNNMoney) -- It's not an end to the coffee wars between Starbucks and Green Mountain Coffe. But it may be a détente.
The companies said Wednesday that they'll be joining forces to sell Starbucks-branded single serving coffee packs to run with Green Mountain's newest coffee machine, the Vue.
Green Mountain's investors clearly like anything that keeps the company linked with the world's largest coffee retailer.
Shares of Green Mountain Coffee Roasters (GMCR) surged nearly 12% Wednesday, while Starbucks (SBUX, Fortune 500)' stock barely budged.
Just two weeks ago, Starbucks announced that it planned to start selling its own Verismo machine, which will make single cups of espresso drinks. That news sent Green Mountain's shares cratering.
While some investors saw that as a death knell for Green Mountain, today's news pointed to optimism that perhaps there's plenty of single cups of coffee to go around.
Green Mountain and Starbucks first paired up to sell Starbucks' coffee in Green Mountain K-Cup machines in March 2011.
When Starbucks announced the Verismo, it also affirmed its commitment to keep selling coffee for the K-Cup machines.
The Verismo will launch just as Green Mountain loses two keys patents for its single-serve system that have helped it dominate the market.
Consumers' seemingly endless thirst for single servings of coffee helped Green Mountain become one of the fastest-growing companies of the past decade.
It was also one of the best-performing stocks during that same time period, handing investors back 110% gains on an annualized basis until last fall.
In October 2011, hedge fund Greenlight Capital's founder David Einhorn outlined a case for why Green Mountain was destined to see its market crumble, citing the expiring patents. Einhorn holds sway with investors after he predicted problems with Lehman Brothers ahead of the bank's collapse.
Green Mountain's shares plunged nearly 60% after Einhorn's comments last fall but slowly and steadily managed to regain nearly half of that back through Tuesday's close.
Investors expect the bumpy ride for Green Mountain to continue, with roughly 14% of the holders of its stock betting that the price will fall, according to the research firm Data Explorers.