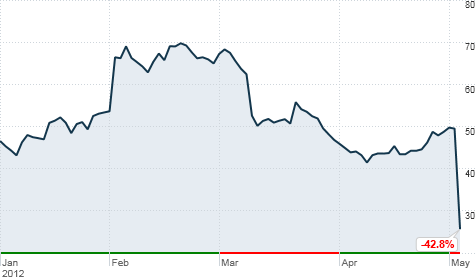 Shares of Green Mountain Coffee Roasters plunged following a weak sales outlook. Investors think increased competition could hurt the company further. Click chart for more on GMCR.
NEW YORK (CNNMoney) -- Short sellers -- investors who bet that specific stocks will go down in the near-term -- aren't always right. But when they do make the right call on a stock, they tend to really nail it.
Witness the case of poor Green Mountain Coffee Roasters (GMCR). Well, poor may not be the best word. It only describes the people who have a long position in the stock.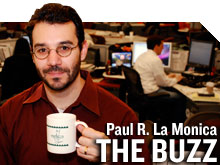 If you had shorted it, borrowing shares and selling them with the hopes of buying them back later at a lower price, then you are very happy (and wealthier on paper at least) today.
Green Mountain plunged nearly 50% Thursday after reporting sales that missed forecasts and providing a weak outlook for the rest of the year.
Executives at the maker of single-serve K-Cups and the Keurig machine suspiciously trotted out the weather excuse, i.e. that an unseasonably mild winter meant fewer people drinking hot beverages like cocoa and cider, in a conference call with analysts Wednesday.
David Einhorn, the well-known manager of hedge fund Greenlight Capital, must be flashing a Cheshire Cat grin today. He made a case for shorting the stock last year with a scathing presentation in which he questioned the company's accounting practices. He referred to Green Mountain's numbers as "GAAP-uccino."
But several other investors who have shorted (and are still short) Green Mountain think the stock could fall even further.
John Del Vecchio, co-manager of the Active Bear (HDGE) exchange-traded fund in Dallas, said he believes the worst is not over for the company. The big drop in Green Mountain gave his fund a big boost Thursday. Shares of Active Bear rose more than 2.5%.
"This could just be the beginning of the end for the company. They got hammered on margins and now are stuck with finished goods that will only lose margin as the year goes on and any new inventory is going to get squeezed by higher costs associated with it," Del Vecchio said.
"Management seems a bit lost. The sub-par demand for K cups has severe implications for both revenue and profit margins," he added.
Green Mountain bears also point to another big negative: falling prices for its product. When retailers cut prices, that's often a sign that there is too much inventory and too little demand. And that's never a good sign ... unless you believe in the myth of making it up on volume.
"It's not going to get better. It's going to get worse. If you look at places like Amazon and Costco, there are lots of discounts on K-Cup prices. Existing vendors are lowering prices substantially," said David Post, principal managing director with Llenroc Capital LLC, a money management firm in San Rafael, Calif. that is still short Green Mountain.
Green Mountain was a hot momentum stock for many years because it was doing something that seemed pretty unique. Single cups of coffee were usually the type of thing you bought at Starbucks (SBUX, Fortune 500), Dunkin' Donuts (DNKN) or your local deli. It wasn't something that many people brewed at home or in the office. But the Keurig changed that.
However, the Keurig is no longer the only single cup brewer in town.
Starbucks, despite a partnership with Green Mountain to sell Starbucks-branded K-Cups, plans to start selling its own single-serve machine later this year.
Rob Majteles, managing partner with Treehouse Capital in Oakland, Calif., said he has been short Green Mountain for more than a year and said that he thought the economics of the original Starbucks partnership favored Starbucks more than Green Mountain.
He said it looks like many investors underestimated the possibility that Starbucks might become a more direct competitor with Green Mountain, despite a leaked memo last year from Starbucks CEO Howard Schultz about the company's single-cup aspirations.
"The Starbucks deal was actually a catalyst to increase our short position," Majteles said.
And Mars, the gigantic privately held candy, gum and drinks maker, has a single-serve machine called Flavia that features coffee packets from Milwaukee-based coffee brewer Alterra. Disclosure. My office switched from a Keurig to a Flavia a few years ago.
So if Green Mountain has been resting on its laurels as the presumed market leader, its latest earnings should be a wake up call.
"They sell coffee makers and coffee. It's not like they're the leader of a new industrial revolution. There's also huge margin risk once their patents expire and competition was increasing," Del Vecchio said.
That comment pretty much nails it on the head. One-trick pony companies that make faddish products are often extremely risky. This may be a reason why SodaStream (SODA), the company behind the popular line of carbonated beverage machines for the home, plunged more than 10% Thursday.
Investors in nutritional supplement maker Herbalife (HLF) also appear to be nervous about getting "Green Mountained." Shares have plunged the past few days after Einhorn started asking questions about the company on its earnings conference call this week.
Brad Lamensdorf, another co-manager of Active Bear, said the fund tries to find companies that could face tough pricing pressure, accounting issues or weaker demand.
A few of the fund's other top short positions right now are online reservation service OpenTable (OPEN), which also plunged this week after missing its sales forecasts and issuing a disappointing outlook, and Energizer Holdings (ENR), which Lamensdorf said is going to be hurt by "brutal" pricing competition from Procter & Gamble's (PG, Fortune 500) Duracell unit.
But before you go looking for companies to short, investors have to be forewarned. It's not easy. For every home run you may hit with Green Mountain, you could strike out with other companies whose stock prices keep rising. Majteles joked that he was once publicly short Amazon.com (AMZN, Fortune 500) and that was the wrong call.
And with short selling, unlike buying a stock, your losses are theoretically infinite. When you buy a stock, the worst that can happen is it goes to zero. When you short a stock, you have to eventually buy it back in order to return the shares you borrowed. The longer you wait and the more a stock goes up, the bigger mess you are in.
Shorting is not for the faint of heart, and it's tough to do as an exclusive strategy, especially in a market like this where stocks are doing well. Along those lines, even though Active Bear deserves kudos for getting the Green Mountain story right, shares of the ETF are still down 12% this year.
Best of StockTwits: How about another cup of coffee?
StockOperator: I like how $GMCR analysts are downgrading the stock today but still have PTs 30-50% higher than the current stock price.
The sell-side needs to switch to decaf, methinks.
KidDynamiteBlog: $GMCR split??? When will I see the new shares hit my account? #sarcasm
If the stock keeps plunging, you could get a split. A reverse split, that is.
EddyElfenbein: I remember way back when$GMCR was at $110. Or more specifically, last September.
Those were the days. Netflix (NFLX) was over $200 a share back then too.
The opinions expressed in this commentary are solely those of Paul R. La Monica. Other than Time Warner, the parent of CNNMoney, and Abbott Laboratories, La Monica does not own positions in any individual stocks.