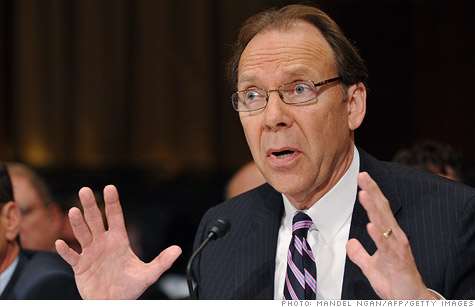 Sprint CEO Dan Hesse volunteered to give up a significant chunk of his pay.
NEW YORK (CNNMoney) -- Sprint Nextel CEO Dan Hesse is taking a $3.25 million pay cut because of the nasty toll the iPhone has taken on the company's bottom line.
The move is an attempt to appease some of Sprint's (S, Fortune 500) most vocal shareholders, including the Ontario Teachers' Pension Plan, who oppose Hesse's reelection to the company's board.
The pension plan says that Sprint executives should tailor executive pay to the company's recent performance. Sprint's profit margins have been severely squeezed by the upfront subsidies the company pays to sell the iPhone, so the shareholders believe the executives' pay should be reduced too.
The pension plan, which holds 3.9% stake in the company, is an important voice for Hesse to listen to: It is Sprint's fifth-largest shareholder, according to FactSet.
Rather than have every executive reduce his or her pay, Hesse volunteered to take the bullet for the rest of the team.
"I do not want ... to penalize Sprint employees for the company's investment with Apple, so I will forego this adjustment to my compensation," Hesse said in a letter to shareholders on Friday.
He added: "I'm hopeful that these actions will allow the company to remain focused on delivering the best overall customer experience in the wireless industry, which is what will serve the company best in the long run."
Reducing Hesse's compensation by $3.25 million takes his salary and bonus for the last two years back to 2010 levels, before the iPhone launched on the company's network. Hesse, who was set to pocket a total package of $15.6 million this year in salary, bonuses and stock-based compensation, effectively took a 21% pay cut.
Sprint's board approved the plan on Monday.
That wasn't enough to resolve all of the pension plan's gripes.
"We view Mr. Hesse's reduction in compensation as only partially alleviating our concerns," the group said.
It said it was disappointed that Hesse initially supported giving himself a pay raise, and that it continues objecting to aspects of Sprint's complex executive pay plan "that we continue to believe are inappropriate."
The group also suggested that Hesse was attempting to curry favor by taking the pay cut just a week before Sprint's May 15 shareholders meeting, at which he is expected to face some tough opposition to his reelection.
Hesse estimated in October that Sprint would pay $15.5 billion in up-front iPhone subsidies over the next four years -- a hefty expense for a company with a dangerously thin capital cushion.
In the last three months of 2011, the first full quarter in which Sprint sold the iPhone, the company's adjusted wireless margin fell to 9.5%, down from 16% a year ago. Sprint said that its margins would have been nearly nine percentage points higher if not for the iPhone subsidy.
Yet Hesse continues defending the decision to sell the iPhone, predicting that it will one day be the company's "most profitable" smartphone.
Some of the benefits of doing business with Apple (AAPL, Fortune 500) have already begun to pay off for Sprint. Last quarter, Sprint said that iPhone sales helped drive wireless service sales up 7% to $7.2 billion, and Sprint's average revenue per user grew an astounding $4.03 from a year ago.
That ARPU growth -- one of the industry's most closely watched metrics -- represented the largest year-over-year increase in U.S. wireless industry history.