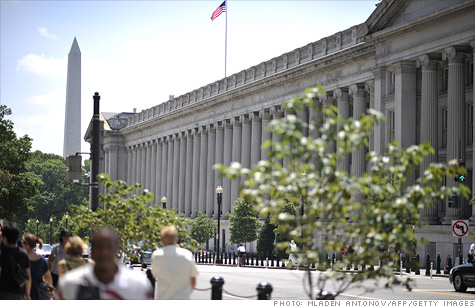 After 42 months of large monthly budget deficits, federal coffers at Treasury were in the black for April.
NEW YORK (CNNMoney) -- For the first time in more than three years, Washington took in more money than it paid out last month.
The Treasury Department on Thursday recorded a $59 billion surplus. Tax receipts were higher and spending lower than they were last April.
The government has been bedeviled by budget deficits. The last time federal coffers were in the black for a month was September 2008, when Treasury reported a $46 billion surplus.
Of course, a lot has happened since then: a historic financial crisis, a deep recession and a slow recovery.
To counteract the negative effects on the economy, lawmakers have passed at least $2 trillion in tax cuts and spending increases since 2008.
Even though a surplus after so much time is welcome news, it's not likely to be the start of a trend.
Including the April surplus, Treasury forecasts a $1.33 trillion deficit for fiscal year 2012, which ends Sept. 30.
To date this fiscal year, the United States has racked up a $720 billion deficit. But that's less than the $870 billion recorded during the same period last year.
The April surplus also isn't likely to change expectations for when U.S. borrowing will hit the country's debt ceiling. The current legal limit on borrowing is $16.394 trillion, and total accrued debt subject to that limit has already topped $15.6 trillion.
The Bipartisan Policy Center still estimates that government borrowing will hit the ceiling sometime between late November 2012 and early January 2013.
Treasury can employ so-called extraordinary measures, such as suspending investments in federal retirement funds, to keep borrowing a hair below that limit for a short while. But the issue will be just one more fiscal headache Congress will have to address during the lame duck session after the Nov. 6 elections.