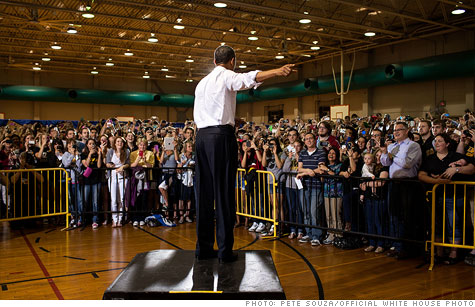 Obama faces a number of potential blow-ups before Election Day. None is a greater risk than the crisis in Europe, which could upset the U.S. economy.
NEW YORK (CNNMoney) -- Trillions in looming tax hikes and spending cuts. Washington saber-rattling over the debt ceiling. A slowdown in the world's second largest economy.
President Obama's re-election campaign may have to run through a number of potentially ugly economic events.
But none is greater than what's happening in Europe, experts say.
"An acute U.S. economic shock that comes out of Europe has a clear negative implication for the re-election of the president," said Sean West, a director of U.S. political risk coverage at Eurasia Group.
Europe's debt crisis and the resulting economic malaise have gripped the continent for years, but the odds are rising that one or more countries will soon exit the eurozone.
Greece, which has a political system in disarray, sky-high borrowing costs and no realistic prospects for near-term economic growth, is at the fore of the list.
In a worst-case-scenario, Ireland, Spain and Italy could follow.
"It would be a very substantial shock if Europe fell into disarray," said Campbell Harvey, a professor at Duke University, who added that U.S. exposure to such a crisis is poorly understood.
American banks say they have little exposure to Greece, but greater risk is associated with core countries like Spain and Italy. A frozen credit system is an even bigger threat.
And any further slowdown in Europe could hinder U.S. exports and hurt the domestic economy.
A slowdown in the United States, no matter the source, would play into the arguments made by Obama's opponents, who already plan to base their messaging around the president's economic policies.
"The president is the single person who gets credit or blame based on economic performance," said Eurasia Group's West. "It doesn't matter where it's coming from."
For Obama's political advisers, now plotting campaign strategy in Chicago, little can be done to counter the European threat.
On Monday, Obama stressed the need for European banks to recapitalize, and said that the continent needs a growth strategy to accompany its emphasis on austerity.
Speaking about efforts by European governments to control the crisis, Obama said he senses "greater urgency now than perhaps existed two years ago or two and a half years ago."
But beyond talk and advice, Obama and Treasury Secretary Tim Geithner have made clear they are pursuing a hands-off approach to the crisis.
Instead, the president has adopted the position that the Euro crisis is one that must be solved by European leaders.
But recent elections in Greece and France have upset plans for more austerity measures, and it's not clear if a new consensus course of action will emerge.
The political turmoil in Europe doesn't ensure a catastrophic event. Even in Greece, it may be too soon to say that the Greek government -- once there is one -- will decide that abandoning the euro is in the national interest.
And of course Europe is not the only economic threat Obama advisers have to worry about. A slowdown in China and the impending fiscal cliff might have an impact on growth.
China's central bank, for example, has lowered capital reserve requirements in the hopes of stimulating its faltering economy. The move comes as manufacturing in China has contracted recently and growth in industrial production has started to slow in nearly all sectors.
Harvey said China's slowdown poses a "substantial risk" between now and November. "You don't need a lot to knock us out of recovery," he said.
Harvey and West also said that uncertainty over the debt ceiling and fiscal cliff -- $7 trillion worth of tax hikes and spending cuts set to take effect in January -- could have an impact on the economy before November.
But both said the risk is minor compared to an unraveling in Europe.
"The fiscal cliff has been obvious for a period of months," West said "This is not a surprise. We all knew it was coming."