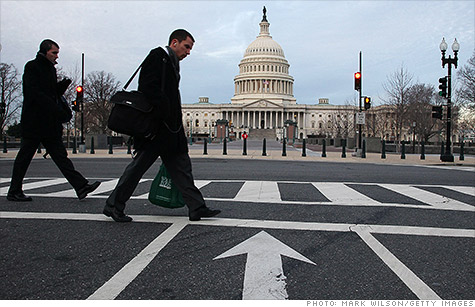 Congress could move to stimulate the economy. It probably won't.
NEW YORK (CNNMoney) -- If you are a struggling business owner, a freshly unemployed worker or just a concerned citizen, don't look to policymakers in Congress for help on the economy.
It won't be coming.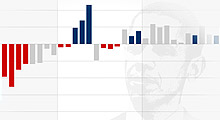 The U.S. lost 4.3 million jobs in President Obama's first 13 months in office. Track his progress since then.
Friday's disappointing jobs report provided fresh evidence that the domestic labor market is floundering. Unemployment in the eurozone just hit a record 11%. And economic growth in China is rapidly slowing.
Markets are reacting in a way that clearly registers the fears of investors. Treasury yields are at an all-time low. Stock markets around the world are selling off.
Jared Bernstein, a former member of President Obama's economic team who is now a senior fellow at the Center on Budget and Policy Priorities, said the nation faces "a clear deceleration" in the labor market.
"We needed to take out some kind of fiscally stimulative insurance policy against this, and we didn't, and that is because of politics," Bernstein said.
But it might not be too late. There are still things policymakers could do to help.
"Standard policy rules say this is a time to stimulate the economy," said Justin Wolfers, a professor at the University of Pennsylvania's Wharton School.
Wolfers said that the Federal Reserve might be able to take some measures that would help around the margins, but that the bigger burden falls on Congress.
"Fiscal policy is where you could really have an effect and get the economy moving," Wolfers said. "Large scale stimulus absolutely makes sense when unemployment is over 8%."
Yet Wolfers said that when it comes to Washington, there is a wide gulf between what should be done and what will be done. Others agree.
"It's unlikely in this climate to see anything big happen before the election," said Karen Dynan, co-director of Economic Studies at the Brookings Institution. "There is just too much partisan sparring out there."
Most Democrats freely acknowledge that large-scale stimulus is not an option, as Republicans are steadfast in their belief that spending cuts, rather than an expansionary fiscal policy, would help the economy.
Instead, Democrats are focused on a "to-do list" of relatively minor policy items that Obama has requested.
The list includes steps to eliminate red tape so homeowners can refinance, a new hire tax credit for small businesses, investments in affordable clean energy and legislation to help military veterans find employment.
"I think those things would help," Bernstein said."But I think we need more than that. We need something fast-acting that will stop the hemorrhaging."
Still, Bernstein isn't optimistic that Congress will act. "If this doesn't spur some action, it's hard to imagine what would," he said. "But don't cross your fingers."
Worse than inaction, experts say Congress is actively hurting the economy. That's because lawmakers will likely put off deciding anything on the so-called fiscal cliff until the last minute.
The "cliff" Congress approaches is a series of measures set to begin in January that would take more than $500 billion out of the economy in 2013 alone.
Those measures include the expiration of the Bush tax cuts and protection of the middle class from the Alternative Minimum Tax, the onset of $1 trillion in blunt spending cuts, and a reduction in Medicare doctors' pay.
"Getting rid of the fiscal cliff, and doing so now, and getting rid of the debt ceiling, would create an enormous amount of certainty," Wolfers said.
Dynan said the certainty created by an early resolution would raise consumer and business confidence at a crucial time.
"The fiscal cliff is one big example of something that is frightening people and basically making consumers and businesses hunker down," Dynan said.
But with the election bearing down, it's unlikely that Congress will accelerate its decision-making process.
Just on Friday, politicians responded to the jobs report, largely by casting blame on the opposing party.
Mitt Romney released a statement that said the report was "devastating news for American workers."
"The president's re-election slogan may be 'forward,' but it seems like we've been moving backward. We can do so much better in America," he said.
Wolfers reminded that it's not just the presidential contest that is adding to the divisive atmosphere.
"You have to remember," Wolfers said, "every single congressman is running for their own seat."