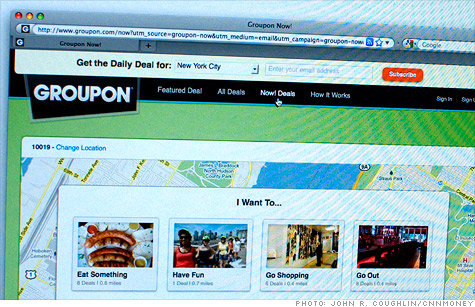 NEW YORK (CNNMoney) -- Andrew Mason could probably use a Groupon for a massage, a beer, or some comfort food right about now.
His company's precipitous stock decline continued on Monday, sending Groupon's market cap below the $6 billion that Google offered as a buyout in late 2010.
Groupon's stock ended nearly 8% lower on Monday, sending shares to a new low of below $9 per share.
That extended the stock's heavy losses on Friday, when Groupon (GRPN) shares tumbled 9% on heavy volume as company insiders got their first chance to sell their stock. With Monday's plunge, shares are down about 26% over the past week.
There hasn't been any major news specific to Groupon -- other than the so-called lockup expiration that allows insiders to sell -- to explain this week's sell-off. But several Internet companies have tumbled along with Facebook (FB). Since the social network's IPO about two weeks ago, Facebook shares are down more than 30%.
Monday's decline brings Groupon's market capitalization to about $5.8 billion. That's less than the roughly $6 billion that Google (GOOG, Fortune 500) offered to buy Groupon in December 2010.
Groupon chose instead to go public, making its debut on the Nasdaq exchange on November 4.
Life on Wall Street has proven difficult.
As soon as Groupon disclosed its financials in its June 2011 IPO filing, critics slammed the company for its unorthodox accounting measures. That led to several downward revisions of Groupon's financials as it adopted more conventional metrics.
Despite that, Groupon shares soared about 31% on their debut day. But the gains didn't last long. A few weeks after reporting its fourth-quarter financial results, Groupon was forced to revise its quarterly income and sales lower, thanks to a higher-than-expected rate of customers asking for refunds.
In that same statement, Groupon revealed that its independent auditor uttered the dreaded phrase "material weakness." Ernst & Young's 2011 audit report found that Groupon had a deficiency in its process for closing its quarterly financial statements.
Groupon has since taken steps to resolve that issue. Last month the company reported narrower losses and better sales than analysts had expected for the second quarter.