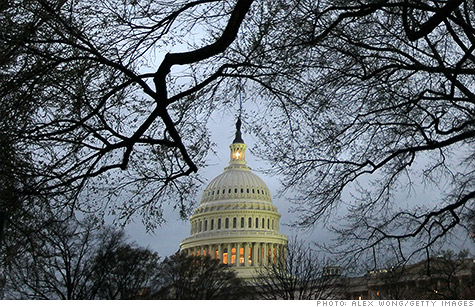 Standard & Poor's said there's at least a one-in-three chance that the United States will be downgraded within two years absent a credible, bipartisan debt-reduction plan.
NEW YORK (CNNMoney) -- Credit rating agency Standard & Poor's said Friday the United States could be in for another credit downgrade by 2014 if Congress doesn't tackle the national debt with a serious plan.
"For such a plan to be credible, we believe it will require broad bipartisan support," the agency said in a statement.
Last summer, S&P stripped the United States of its AAA rating, citing in part the "political brinksmanship" that dominated the political fight over the debt ceiling. That debate, the agency said Friday, "raised some concern about congressional commitment to avoiding default on U.S. government debt."
S&P said it is affirming the country's current AA+ credit rating but that its outlook on the rating remains negative.
Translation: There is at least a one-in-three chance the agency could issue another downgrade within two years.
"We think that recent shifts in ideologies of the two major political parties in the U.S. could raise uncertainties about the government's ability and willingness to sustain public finances consistently over the long term," S&P wrote.
The agency said it is not expecting an easy resolution to the fiscal debate after the November elections. A close election could "reduce bipartisanship from its already low level as each side strives to rally support by more clearly distinguishing itself from the other."
S&P stressed that while Congress needs to come up with a debt-reduction plan for the medium term -- meaning over 5 to 10 years -- it needs to be careful about upending the economy in the short-run.
"We believe the fiscal challenges of the U.S. are more structural and recognize that abrupt short-term measures could be self-defeating when domestic demand is weak," S&P said.
Like most observers, S&P assumes that Republicans and Democrats will take steps to avoid the "fiscal cliff" -- the sudden onset of more than $500 billion in scheduled tax increases and spending cuts in 2013.
Specifically, the agency assumes the Bush tax cuts will remain in place "indefinitely," that the Alternative Minimum Tax will be indexed for inflation to prevent millions of non-wealthy tax filers from being hit, and that lawmakers will reverse a scheduled reduction in Medicare physician pay.
Bolstering the U.S. credit rating, S&P noted, is the country's resilient economy, its monetary credibility and the fact that the U.S. dollar remains the world's reserve currency.
The agency assumes that the economy will grow between 2% and 3.5% a year on an inflation-adjusted basis, inflation will be modest and short-term Treasury rates will remain near zero until 2015.
S&P's assessment Friday isn't likely to surprise experts on the U.S. fiscal situation.
"With Congress still deadlocked when it comes to proper fiscal reform, the U.S. has not done enough for S&P to restore the AAA rating. And things have not deteriorated enough to warrant S&P acting on its negative outlook," said Mohamed El-Erian, CEO of investment firm Pimco.