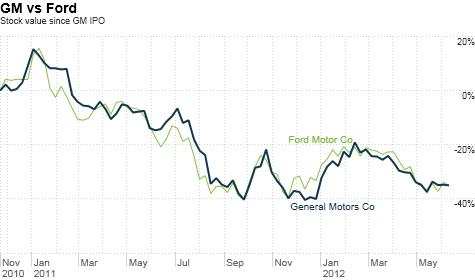 NEW YORK (CNNMoney) -- General Motors CEO Dan Akerson apologized to shareholders Tuesday for the automakers' poor stock performance, despite the fact that the company posted record profits and regained the title of global sales leader last year.
Akerson, speaking at the company's annual meeting in Detroit, said 2011 was only a good year, not a great one for GM, despite the sales rebound and record profit of $7.6 billion. And he said GM needs to improve the profit margins, pointing out that it's the fifth largest Fortune 500 company in terms of revenue, but only the 20th largest in terms of profit.
But much of the discussion focused on the disappointing value of GM (GM, Fortune 500) shares, including the 500 million shares held by Treasury on behalf of U.S. taxpayers. The stock is down 33% since the company's November 2010 initial public offering.
"I regret the stock has not done well post-IPO. I assure you we're all dedicated to improving that over the medium to long term," Akerson said.
GM shares, which were little changed on Tuesday, are up 8% so far this year, out-performing shares of rival Ford Motor (F, Fortune 500). That happened even though Ford shed the junk bond rating for its debt and restored its dividend, two milestones GM has yet to reach. The two automakers' share performance has essentially mirrored one another since GM's IPO.
But GM shareholders at Tuesday's meeting complained about the post-IPO price performance, asking that GM restore its dividend or announce a share repurchase with the cash it has on hand.
Shareholder Conrad Trendowski asked what Akerson was being told by Wall Street about why the stock continues to "wallow at a pretty low level."
Akerson cited investor concerns about ongoing losses in Europe, the company's underfunded pension funds and broader worries about the economy.
He said there was also some concern about what would happen to the share price when the Treasury Department decides to sell its remaining stake in the company, which will put 500 million more shares into the market.
Republican presidential candidate Mitt Romney, a critic of the 2009 federal bailout of GM, has said if he's elected, he would sell the stake soon after taking office.
To deal with pension worries, Akerson pointed to GM's recent announcement to drop traditional pension plans for white collar retirees, shifting them to either a lump-sum payment or purchasing an annuity on their behalf. That reduces the pension fund liability by $26 billion, although it will spend between $3.5 billion to $4.5 billion to help cover the purchase of the group annuity contract.
The move has been praised by stock analysts, with Morgan Stanley's Adam Jonas saying that it "enables GM to focus more on making cars rather than managing a pension fund." He said the cost of the pension payments should be covered by about two-quarters worth of cash flow from the company, and it will eliminate a major overhang from the stock.