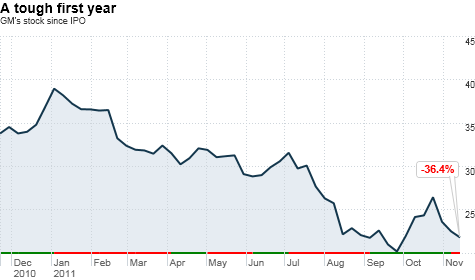 NEW YORK (CNNMoney) -- Taxpayers' stake in General Motors has taken a $5.7 billion hit since the automaker had its successful initial public offering exactly one year ago Friday.
Since then, the company has posted solid profits, increased its market share and improved its balance sheet. But shares have lost more than third of their value since they debuted at $33 a year ago, to close at $21.68 on Friday.
High oil and commodity prices, coupled with worries about weak U.S. economic growth and fears of a possible financial meltdown in Europe, have hurt all the major automakers. Shares of Ford Motor (F, Fortune 500), the only major U.S. automaker to avoid a bailout and bankruptcy in 2009, have declined 37% over the last twelve months.
So is it time for Treasury to cut its losses and dump the 500 million GM (GM, Fortune 500) shares that it still owns?
Treasury spent $49.5 billion to help see the automaker through its 2009 bankruptcy reorganization, leaving the U.S. with 61% of the company. Even after taking into account Treasury's proceeds from GM's record IPO and federal loans that the company has repaid, taxpayers are still out about $25.5 billion.
That means the stock would have to more than double from today's price, to about $51 per share, for taxpayers to break even.
At the time of the IPO, many people expected Treasury would try to sell its remaining stake by the end of 2011, if for no other reason than to close the books on the deal before the president's re-election effort got underway.
But Steven Rattner, who left the Obama administration shortly after overseeing the GM bailout and bankruptcy, told CNNMoney this week that was Obama's reelection was never an issue in the government's exit strategy.
"I think there are much bigger issues for the campaign than when the government does or doesn't sell its GM stake," he said. "The most important thing is to sell it at the right time, not too soon and not too far away."
And Rattner said given the drop in GM's share price, this is not the time to sell shares.
"I think the IPO price was a fair and reasonable valuation," he said. "I don't myself, at the moment, see any particular reason why the U.S. should rush to sell at a much lower price when the company is doing very well."
Tim Massad, the assistant Treasury secretary overseeing various government bailouts, dodged the question of a sale when asked about it during a television interview last month.
"We'll be patient in our disposition of GM as well as our other assets," he said. "We have to balance the goal of divesting these stakes - because the government should not be in the business of owning stakes in private companies - with the goal of maximizing taxpayer returns."
GM CEO Dan Akerson told the Economic Club of Detroit on Thursday that it doesn't matter to the company when Treasury sells.
"It doesn't change how we run the business," he said. "We're content to let Treasury move at its own pace."
Analysts surveyed by Thomson Reuters have a 12-month price target on the stock of just $33. Reaching that level would at least recapture the $5.7 billion in value lost over the last year. But their recent forecasting track record hasn't been good -- a year ago they expected shares to hit $43.
But some analysts still think Treasury can break even on GM.
Adam Jonas, auto analyst with Morgan Stanley, has set a $45 target price for the stock and says under the best-case scenario it could go as high as $68. He said the company's strong competitive position in the U.S. and China and its improving balance sheet leaves it well positioned for further gains in the next year.
"The first year hasn't been easy -- far from it," he wrote in a note to clients this week in which he gave an "overweight" or buy recommendation on the stock. "But we believe GM has the financial strength and sense of urgency to aggressively confront its challenges in 2012."
Even a GM bull like Jonas isn't blind to risks for shareholders. He said a recession in Europe and a corresponding drop in car sales in the United States and China could send shares plunging by more than 50% to $10 a share. But even then, he expects that GM would remain profitable.