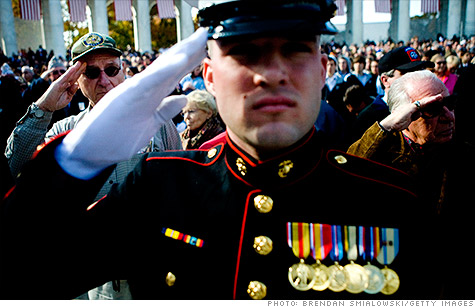 Veterans are the intended beneficiaries of the post-9/11 GI Bill, but for-profit private schools are raking in hundreds of millions of dollars from the government.
NEW YORK (CNNMoney) -- The GI Bill was designed to help veterans, but the biggest beneficiaries seem to be the for-profit private schools that are raking in taxpayer dollars.
The Department of Veterans Affairs bankrolls four years of higher education for veterans who have served since September 11, 2001. The VA paid out $4.4 billion for tuition and fees in the two academic years spanning 2009 to 2011. For-profit private schools raked in 37% of those funds, but educated just 25% of veterans, according to the U.S. Senate's Health, Education, Labor and Pensions (HELP) committee.
So what are taxpayers getting in return? According to the VA, the graduation rate is just 28% at for-profit schools like University of Phoenix and DeVry University (for all students, not just veterans). That compares with a graduation rate of 67% at non-profit private schools and 57% at public schools.
The GI Bill covers all tuition at public schools, and up to $17,000 per year at private schools. But tuition at many private schools far exceeds that, so veterans take out loans to cover the balance.
The average tuition at a for-profit school is steep -- six times higher than a community college and double the cost of a four-year public school, according to Sen. Tom Harkin of Iowa, chairman of the HELP committee. And students at for-profit schools have a loan-default rate of 47%, according to the Senate committee.
In 2010, after hearing complaints from constituents about problems with for-profit schools, Harkin conducted an undercover investigation.
"The findings alarmed me," said Harkin, in an email to CNNMoney. "We found widespread predatory and deceptive recruiting practices, high drop-out rates and inadequate, or even non-existent, academic and student support services, among other things."
Meanwhile, the for-profit schools are pulling in hundreds of millions of dollars in VA cash. From 2009 to 2011, the VA paid $196 million to the University of Phoenix, $175 million to ITT Tech, $128 million to DeVry University, about $50 million each to Kaplan and The Art Institutes, and $28 million to Westwood College.
During that same two-year span, the VA paid about $20 million to the University of California and another $15 million to The State University of New York. Even less money went to esteemed - and hard to get into - non-profit private schools like Harvard, which received $3.6 million from the GI Bill, and Princeton University, which received $173,000.
Troublesome allegations have been levied against for-profit privates. The White House accused "some institutions" of recruiting brain damaged veterans without providing academic support, encouraging vets to take out "costly loans" from the schools themselves, withholding information about graduation rates and engaging in "misleading recruiting practices on military installations."
In April, the White House issued an executive order against these types of activities: "Since the Post-9/11 GI Bill became law, there have been reports of aggressive and deceptive targeting of service members, veterans, and their families by some education institutions."
ITT Tech, DeVry University, Kaplan and The Art Institutes didn't return calls for comment.
But Richard Castellano, spokesman for the University of Phoenix, said that his school has worked with veteran student organizations to recommend reforms to Congress and the White House, including "a student complaint process and mandatory [education] counseling." He said these reforms "ended up included in the president's executive order."
Steve Gunderson, president and chief executive officer of the Association for Private Sector Colleges and Universities, said for-profit schools are "one of the most highly regulated groups in the country," and have been working closely with Congress and veteran organizations "to achieve solutions to the many areas of concern." (See correction, below.)
He said he was disappointed that the White House "circumvented ongoing discussions with Congress" by implementing its executive order.
Some veterans have also complained about losing credits when they transfer from for-profit privates to other schools. Gunderson blamed that problem on the schools that refuse to accept the credits.
"It is nothing but academic elitism by some regionally accredited institutions for not accepting credits from other regionally-accredited institutions -- regardless of institution type," he said.
Correction: An earlier version of this story incorrectly attributed quotes to Heather Greenaway of the Association for Private Sector Colleges and Universities. The comments were made by the association's president, Steve Gunderson.