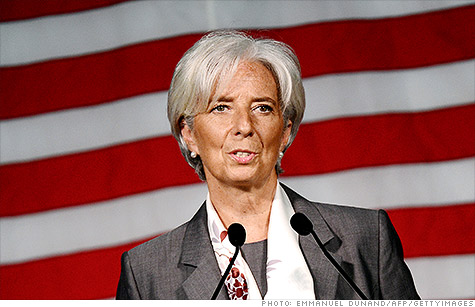 Christine Lagarde, managing director of the International Monetary Fund, is encouraging U.S. lawmakers to focus on boosting the economy now, and worry about cutting deficits later.
NEW YORK (CNNMoney) -- Boost the U.S. economy now and worry about cutting deficits later, the International Monetary Fund recommended Tuesday.
The U.S. recovery remains "tepid" and according to the IMF, is expected to grow only 2% this year. Meanwhile, the fiscal cliff looms in 2013, threatening to reduce the economy's growth to only 1% next year.
Meanwhile, the IMF predicts the job market will improve only at a snail's pace. It expects the unemployment rate to average 8.2% this year and 7.9% in 2013.
Amid that weakness and threats from slower growth abroad, the IMF recommended U.S. policymakers spend more on infrastructure, worker training programs, extended unemployment benefits and fixes for the housing market.
"Continued policy action is needed to boost the recovery," IMF Managing Director Christine Lagarde said at a news conference. "We believe the U.S. authorities do not have a lot of space available to act, but they should use it to support the recovery in the near term."
The fiscal cliff and other spending cutbacks would not only stunt U.S. growth but also have "significant spillover effects" on the global economy, Lagarde said.
The IMF also urged lawmakers to raise the debt ceiling as soon as possible.
"At the same time, promptly raising the debt ceiling would help reduce uncertainty and avoid the risk of losses in confidence and financial market instability as the deadline approaches," the IMF report said.
Even President Obama's $3.8 trillion budget proposed in February didn't live up to the IMF's standards. That budget intended to reduce the deficit from 8.5% to 5.5% of gross domestic product in fiscal 2013.
That reduction is too rapid, the IMF said, "given the weak economy and downside risks." Instead, the IMF recommended cutting the deficit by only 1% of GDP in fiscal 2013.
The U.S. should still work on addressing its debt over the medium term, Lagarde said.
"It has to be sensible and certainly not excessive," she said.
The IMF also noted that it supports the Federal Reserve's latest efforts to boost the economy, although it said monetary policy can only have a limited impact at this point.