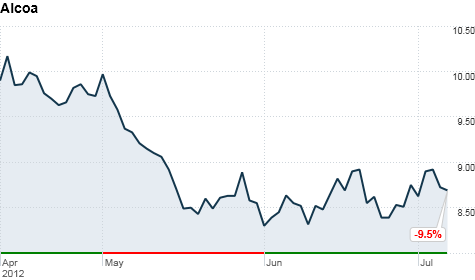 Click the chart to track Alcoa's stock
NEW YORK (CNNMoney) -- Aluminum producer Alcoa became the first Dow component to report second quarter results Monday, posting income that was in line with analyst expectations and saying that demand for its products is strong.
"Although aluminum prices are down, the fundamentals of the aluminum market remain sound with strong demand and tight supply," said Klaus Kleinfeld, chief executive officer of Alcoa. "Alcoa is successfully capitalizing on accelerating demand in high-growth end markets such as aerospace and automotive."
Alcoa reported income of $61 million, or 6 cents per share, excluding special items. That's down 81% from earnings of $322 million, or 32 cents per share, in the same period last year.
The firm posted a loss from continuing operations of $2 million, or break even on a per-share basis.
Revenues came in at $6 billion, down 9% compared with second quarter 2011, due to an 18% decline in aluminum prices from a year earlier.
Economists had forecast earnings of 6 cents per share on $5.8 billion in revenue, according to estimates from Briefing.com. Alcoa (AA, Fortune 500) shares edged slightly higher in after-hours trading.
Analysts expected Alcoa's results to reflect the impact of the eurozone crisis on the U.S. economy. They also anticipated that the slowdown in China, the world's biggest producer and consumer of aluminum, would drag earnings down.
Alcoa is in the spotlight at the start of every earnings season, since it's generally the first Dow company to deliver results. It's considered a bellwether of the economy since so many other industries rely on aluminum.
This quarter's results are especially in focus since earnings across the board are expected to underwhelm compared to the first quarter. Analysts expect earnings growth for companies in the S&P 500 to drop more than 1%, according S&P Capital IQ. That would mark the lowest growth rate for companies on the S&P 500 since 2009.
Additionally, 75% of the companies that have pre-announced earnings for the second quarter said that they'll miss expectations, according to market data firm FactSet. That's higher than usual; negative pre-announcements have averaged 60% over the last five years.
The materials sector in particular is expected to post weak results in the second quarter. Earnings for the sector are forecast to decline more than 12%, according to S&P Capital IQ.