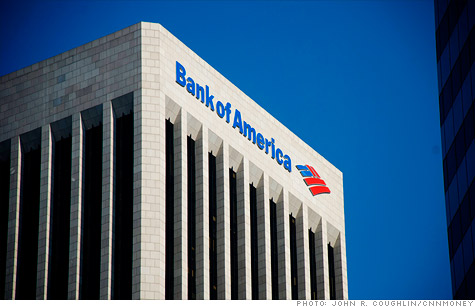 Bank of America reported a profit in the second quarter 2012 after generating a massive loss in the second quarter of 2011.
NEW YORK (CNNMoney) -- Bank of America reported better-than-expected earnings Wednesday but shares fell as investors worry that mortgage problems may continue to plague the bank.
The nation's second-largest bank by assets reported net income $2.5 billion, or 19 cents per share. Those results topped the 14 cents a share analysts' expected, and was a marked improvement from a year earlier, when the bank recorded a loss of $8.8 billion, or 90 cents per share.
During that quarter, Bank of America (BAC, Fortune 500) took an $18.2 billion writedown of its troubled mortgages, relics of the financial crisis and the bank's takeover of Countrywide.
Yet the mortgage hangover continues to worry investors.
So far Bank of America has set aside roughly $35 billion to service its delinquent mortgages and the potential costs and litigations from so-called putbacks, or what government agencies like Fannie Mae and Freddie Mac and private lenders including Blackrock (BLK, Fortune 500) and Pimco (PTTRX) can charge Bank of America for improperly underwriting mortgages.
Many analysts wonder whether that's enough.
"It's still really hard to model Bank of America's expenses because of these mortgage costs," said Jefferson Harralson, a banking analyst at Keefe, Bruyette & Woods.
Shares of Bank of America, which initially rose on the earnings beat, slumped 2% after the analyst call.
Still, while overall second-quarter revenue of $22.2 billion fell short of forecasts, the bank got a revenue boost from lending, which increased for the sixth straight quarter.
Also helping Bank of America's bottom line was a 26% cut in expenses to $17 billion, from $22.9 billion. CEO Brian Moynihan has called the bank's plan to cut expenses and emerge as a leaner operation "new BAC." The bank expects to reduce expenses by another $5 billion by the end of 2015.
The bank has cut roughly 20,000 employees since this time last year.
But Moynihan also noted that the current record low interest rate environment was hampering profits.
Bank of America is the fifth major bank to report earnings, following JPMorgan Chase (JPM, Fortune 500), Wells Fargo (WFC, Fortune 500), Citigroup (C, Fortune 500) and Goldman Sachs (GS, Fortune 500). Morgan Stanley (MS, Fortune 500) reports Thursday.