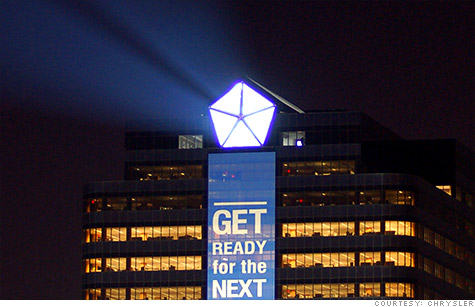 Chrysler Group posted improved earnings, helped by its limited exposure to the auto industry's problems in Europe.
NEW YORK (CNNMoney) -- Chrysler Group reported Monday that its second-quarter operating income more than doubled, aided by improving conditions in the U.S. auto industry and relatively little exposure in troubled Europe.
The company reported it earned $436 million, up from the $181 million it earned a year earlier before taking a charge related to paying off its federal bailout loan. The company posted a net loss of $370 million a year earlier due to that charge.
Revenue jumped 23% to $16.8 billion, as the number of cars and trucks sold worldwide rose 20% to 582,000. About three out of every four cars it sells is in the United States, making it by far the most U.S.-centric automaker, even though Italian automaker Fiat owns a majority of the company.
The results were another sign of the turnaround for Chrysler Group, which was kept alive through a federal bailout and a bankruptcy reorganization three years ago.
Industrywide, U.S. auto sales are up 15% in the first half of this year, putting the industry on pace to sell more than 14 million vehicles this year. That would make it the best year for sales since 2007.
But automakers are struggling with lower sales and mounting losses in Europe, in the face of high unemployment and much of the continent suffering from recessions related to the European sovereign debt crisis.
Last week Ford Motor (F, Fortune 500) reported improved North American earnings but that net income plunged 57% due to mounting losses in Europe. General Motors (GM, Fortune 500) and Toyota Motor (TM) are expected to report similar results later this week -- improved sales and profits in North America offset by mounting losses in Europe.
But the outlook remains better for Chrysler with its more limited exposure to Europe despite its Italian parent.
Chrysler left its full-year sales and earnings guidance unchanged, despite the strong quarter. It expects full-year net income of about $1.5 billion, and an operating profit of about $3 billion, which would be up from the $183 million in net income and $2 billion operating profit it earned last year.