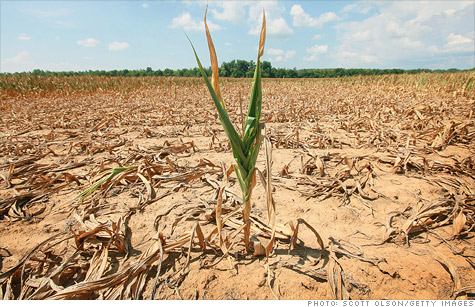 One of the worst droughts in U.S. could cost billions in food exports, but it shouldn't lead to worldwide food shortages.
NEW YORK (CNNMoney) -- The drought baking Midwest corn and soybean crops will likely cost the U.S. food export industry billions in lost revenue.
But unlike droughts in previous years, it should not cause a major disruption in worldwide food supplies.
Crops from other nations can mostly cover the loss, although some people who have recently grown accustomed to eating more meat, especially in developing nations, may have to cut back on it.
The United States accounts for over half the global export market for corn and nearly half of the soybean market. Some corn ends up in products like cereal and soda, but the biggest chunk is used as feedstock for pork, chicken and beef.
All told, U.S. agricultural products account for roughly 10% of the country's $1.5 trillion export market, according to the Census Bureau.
Exports of corn, soybean and meat products -- the items most at risk from the drought -- totaled $53 billion in 2011.
The drought this year "will definitely hurt the quantity of exports," said David Hightower, president of the agricultural futures newsletter The Hightower Report.
By how much is hard to say.
It's estimated the corn crop could be 10% to 15% smaller than expected this year due to the drought.
"The next two weeks are the most significant, maybe in modern history," Hightower said.
Although some of the corn crop is probably lost for good, much of the soybean crop could be saved if rain falls soon. But if it remains dry, then the situation gets markedly worse.
If things get as bad as people fear, a handful of countries may have to shift their food consumption.
Most U.S. corn and soybean exports go to four countries: China, Japan, Mexico and South Korea.
The soybean situation isn't as bad as that of corn. South America, has had a good soybean harvest, said Bruce Scherr, CEO of the agriculture research and consulting firm Informa Economics.
But corn is another matter.
China is probably in the clear -- the country looks to be on its way to a record corn crop, said Scherr.
But the other countries will have to either "pay up or cut back," he said, with Japan and South Korea probably choosing to pay up and Mexico probably cutting back a bit.
Most of exported corn and soy is consumed by livestock, so the cutbacks will most likely affect meat consumption and not staple foodstuffs.
Cutting back on meat will probably not equal hunger, or likely even anything close to it.
Unlike in 2007, when a worldwide drought sparked serious food shortages, this year has seen strong crops of rice and wheat. Plus, worldwide stockpiles of corn, soybeans and other crops are healthy.
"I don't think there will be major shortfalls in supply," said Divya Reddy, a natural resources analyst at the Eurasia Group.
And many of those most in danger of malnutrition -- extremely poor people in Africa -- rely on white corn, which is generally not grown in the United States and which hasn't been hit by drought.
"I don't expect this to impact the poorest of the poor," said Maximo Torero, head of markets and trade at the International Food Policy Research Institute. "It's more the meat market."