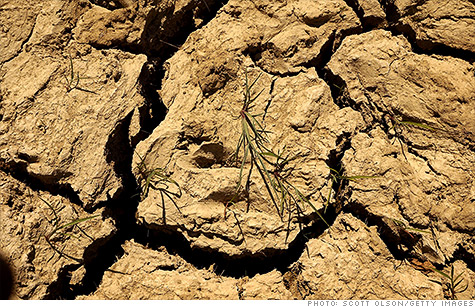 The USDA blames the drought in the Midwest for driving up food prices worldwide.
NEW YORK (CNNMoney) -- Corn yields are shriveling up as the drought continues to wreak havoc on crops across the Midwest.
On Friday, the U.S. Department of Agriculture projected a massive slump in the corn harvest, and a subsequent surge in corn prices.
In its monthly World Agricultural Supply and Demand report, the USDA projected the corn harvest would plunge by 2.2 billion bushels, or by 22.6 bushels per acre, resulting in a harvest of 123.4 bushels per acre.
That's worse than expected and puts the 2012-2013 yield on track to be the lowest since the 1995-1996 harvest.
Analysts had anticipated a decline of 20 bushels per acre to 126 bushels per acre.
Meanwhile, the USDA also said it now expects farm prices for corn to hit a record high this season of $7.50 to $8.90 per bushel, sharply higher than its July forecast of $5.40 to $6.40 per bushel.
The USDA blamed "extreme and dryness" in the Central Plains and the Corn Belt.
Sixth-generation farmer Pam Johnson of Floyd, Iowa, said that she farms 1,200 acres with her husband -- half of it corn and half soy -- and her two sons farm an additional 1,500 acres. They received only half an inch of rain in July, she said, preceded by one and half inches of rain in June.
"Usually we get that much in a week," said Johnson, first vice president for the National Corn Growers Association. "What keeps me from being totally depressed this year is that some of our losses will be covered by crop insurance."
Fewer crops has translated into higher prices for consumers. On Thursday, the United Nations released a report that showed world food prices jumped 6% in July.
Corn was the biggest culprit for the price hike. The global price of corn surged nearly 23% last month. The price of grain also jumped, by 17%.
Rising corn and grain prices are expected to drive up the price of meat, since corn is used to feed cattle.
Although meat prices have recently declined, that's largely due to ranchers culling their herds to deal with rising cost of feed, creating a glut in supply. The price of meat is forecast to rise when the supply thins.
The USDA increased its forecast of wheat supplies, price and also consumption, "as a number of countries are expected to shift some of their livestock and poultry feeding from corn to wheat." This shift to grain is adding further pain to the corn growers.
"We have worked very hard over the years to increase the demand for corn and build markets," said Johnson. "The drought and these high prices are creating demand destruction."
U.S. production of wheat is expected to increase by 44 million bushels. The USDA raised its projected wheat price for this year and next to a range of $7.60 to $9 per bushel from $6.20 to $7.40.
The USDA raised its red meat and poultry production forecast for August, but lowered it for next year, "as higher feed prices are expected to pressure producer returns."
Beef production is expected to go up this year and the next as farmers cull their herds to save money on feed costs, but those higher costs are also expected to drive down the average weight of cattle going into 2013. Milk production is expected to decline as a result of feed costs, which are also driving down pork production, said the USDA.
Poultry production is getting a jump this year, but higher feed costs are expected to drive down production of chickens next year. Reduced production for this year and next is also forecast for eggs and turkey.
The drought is also taking a toll on soybeans, which are essential to oil products such as cooking oil, margarine and peanut butter. The USDA dropped its yield forecast to 36.1 bushels per acre. That's 4.4 bushels lower than last month's estimate, and 5.4 bushels below last year's yield.
The USDA said that soybean prices surged to record levels, up $2 to a range of $15 to $17 per bushel.
Oxfam America, an anti-hunger advocacy group, said the lower yields and higher prices will put more pressure on countries with vulnerable food supplies, such as Yemen, which imports 90% of its wheat.
"Today's gloomy USDA report confirms that the drought across America's heartland is taking a dramatic toll on corn and soy production, and will have severe impacts on world food prices," said Oxfam America senior policy adviser Eric Munoz.