U.S. stocks were poised for a weak open Friday, as investors remain uncertain over whether the Federal Reserve will take steps to stimulate the economy amid rising concerns about global growth.
Europe was also in focus as Greek Prime Minister Antonis Samaras wrapped up a meeting with German Chancellor Angela Merkel in Berlin.
Merkel reiterated her support for Greece to stay in the eurozone, but said that the debt-strapped country needs to meet its reform targets, and that she will wait for the report by the European Union, International Monetary Fund and ECB, known as the troika, which is due next month. Samaras will meet with French President Francois Hollande Saturday.
U.S. stock futures were down about 0.2%.
In the United States, trading volume is likely to remain light, which is typical in August. Little is expected to shake markets until the Federal Reserve's annual symposium next week in Jackson Hole, Wyo.
Earlier this week, minutes from the Fed's last meeting suggested that it is leaning more toward launching a third round of quantitative easing, or QE3. Economists and investors are wary since recent economic data has largely shown improvement.
Few expect Fed Chairman Ben Bernanke to reveal specific new intervention measures at Jackson Hole, but they hope to gauge the Fed chief's next moves.
Thursday brought a sell-off in U.S. stocks, after Hewlett-Packard earnings disappointed and several reports showed the global economy slowing.
World Markets: European stocks were lower in afternoon trading Friday. Britain's FTSE 100 slipped 0.4%, the DAX in Germany declined 0.5%, and France's CAC 40 shed 0.5%.
Asian markets ended in the red. The Shanghai Composite lost 1%, the Hang Seng in Hong Kong dropped 1.3%, and Japan's Nikkei fell 1.2%.
Economy: Durable goods order rose 4.2% in July, more than the 2.5% increases analysts were expecting. But excluding transportation good, orders unexpectedly fell 0.4% last month, according to the Census Bureau.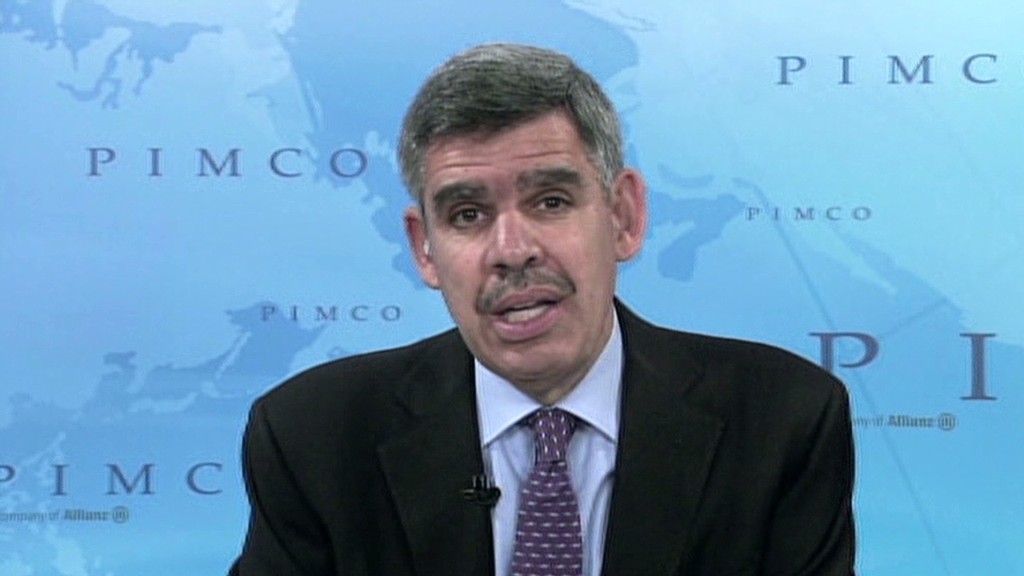 Companies: In a ruling that will not affect the U.S. patent infringement trial now in the hands of a California jury but addresses many of the same issues, a South Korean court has delivered a split decision that slightly favors Samsung over Apple (AAPL).
Shares of software designer Autodesk (ADSK) tumbled after the company reported disappointing earnings late Thursday.
Similar troubles hit computing company Salesforce.com (CRM), whose shares fell more than 5% in early trading Friday after missing earnings expectations.
Shares of Eli Lilly (LLY) jumped after the drugmaker said that although its experimental Alzheimer's drug didn't meet its main goals, it did show significant improvement in some patients.
Currencies and commodities: The dollar rose against the euro, the British pound and the Japanese yen.
Oil for October delivery fell 34 cents to $95.92 a barrel.
Gold futures for December delivery dropped $2.90 to $1,669.90 an ounce.
Bonds: The price on the benchmark 10-year U.S. Treasury rose, pushing the yield down to 1.66% from 1.68% late Thursday.