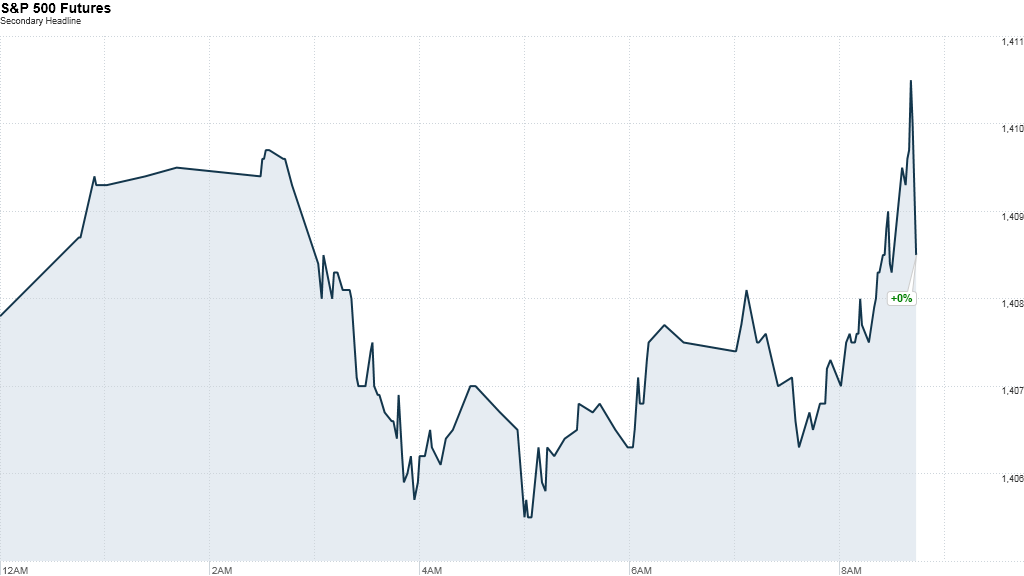 U.S. stocks were set to open a little higher Wednesday as August winds down with many investors either on the sidelines or on vacation.
Volume has been at its lowest level in years. The only big news event is scheduled for Friday, when Federal Reserve Chairman Ben Bernanke speaks in Jackson Hole, Wyo.. Many remain hopeful that he will give hints about new stimulus measures to give the U.S. economy a boost.
U.S. stock futures were mixed.
Worries about Europe continue to keep investors on edge. Spain's recession is deepening, yet borrowing costs continued to ease. Along with Greece, Spain has become a thorn in investors' sides recently. Given its sluggish economy, high unemployment and troubled banking sector, many think the nation will be forced to seek a bailout soon.
Meanwhile, oil prices continue to hover near $96 a barrel, as Hurricane Isaac curtailed oil production along the Gulf of Mexico. But gas prices jumped up 4.8 cents a gallon to $3.804 on Wednesday, according to motorist group AAA. Gas prices are now up nearly 9% in August and at their highest level since early May.
Related: Wholesale gas prices drop. Don't get too excited
U.S. stocks ended mixed Tuesday, as investors welcomed a better-than-expected report on the U.S. housing market.
World Markets: European stocks slid in afternoon trading. Britain's FTSE 100 shed 0.3%, the DAX in Germany lost 0.2% and France's CAC 40 fell 0.5%.
Asian markets ended mixed. The Shanghai Composite fell 1% and the Hang Seng in Hong Kong edged lower 0.1%, while Japan's Nikkei added 0.4%.
Economy: Investors head into Wednesday awaiting a report on pending home sales, as well as the August edition of the Federal Reserve's Beige Book report, a collection of data from the central bank's regional branches.
The U.S. government revised its estimate of second-quarter GDP to a 1.7% annual growth rate from 1.5%, beating economists' expectations.
At 10 a.m. ET, the National Association of Realtors will release data on July pending home sales, which are expected to be flat versus June, according to a survey of economists by Briefing.com.
Companies: H.J. Heinz (HNZ) reported earnings of 87 cents a share, increasing 10% from a year earlier and beating analyst expectations. The maker of ketchup and other food products cited strong sales in emerging markets for the increase. Shares were nearly 2% higher Tuesday after Chief Executive William Johnson said the food company expected to post strong results.
Pandora (P) and TiVo (TIVO) will release their earnings after the close. Pandora is expected to report a loss of three cents a share on $101 million in revenue, while TiVo is expected to post a loss of 24 cents a share on $54 million in revenue.
Currencies and commodities: The dollar gained against the euro and Japanese yen, but lost ground versus the British pound.
Gold futures for December delivery fell $4.10 to $1,665.10 an ounce.
Bonds: The price on the benchmark 10-year U.S. Treasury rose, pushing the yield down to 1.64% from 1.65% late Monday.