U.S. stocks closed in mixed territory Tuesday as investors digested two economic reports showing sluggishness in the U.S. economy.
"We keep seeing this slow deterioration of economic data," said Ryan Detrick, equity strategist at Schaeffer's Investment Research. "These numbers put us in limbo, because investors keep hoping that bad numbers will force the Federal Reserve to offer a fix."
Manufacturing activity in the U.S. dropped for the third straight month, and construction spending also slowed.
The negative readings on the economy pulled down the Dow Jones industrial average and the S&P 500. The Dow ended down 0.4%, and the S&P closed down 0.1%. The Nasdaq closed in positive territory with iPhone maker Apple (AAPL) buoying the tech-heavy index. Apple announced a September 12 event where it's expected to launch a new iPhone.
All three indexes erased some of the steeper losses of up to 0.7% they'd logged earlier in the day.
If history is any guide, investors could finally see an end to the 2012 stock rally. September has been the worst performing month for the S&P 500 over the past 30 years.
Still, according to research from Schaeffer's, there's a chance for an Obama-fueled bounce. When a Democrat has been in office during an election year, the S&P 500 is up 1.3% on average.
Investors are still waiting to take cues from jobs numbers due out Friday and to see what Europe's central bankers will do to protect the vitality of the euro. Right now, all economic numbers are viewed with an eye to how they could influence the equation when the Fed decides whether it will announce more quantitative easing at its Sept. 12-13 policy meeting.
Related: Election won't stop the Fed
In his speech last week, Federal Reserve Chairman Ben Bernanke indicated that additional stimulus could be on the way, saying that the central bank is still willing to do whatever it takes to support the economy.
Meanwhile, Europe will once again be in focus after Moody's warned that the European Union's Aaa credit rating was at risk. Moody's revised its outlook on the EU to "negative" from "stable."
As Eurozone leaders return from summer holidays, investors are bracing for several key events in the euro area this month, starting with a crucial meeting of the European Central Bank on Thursday.
ECB President Mario Draghi is widely expected to unveil details of a new bond-buying program for eurozone governments that agree to certain conditions. But it remains to be seen if Draghi, who many view as the euro's savior, will meet investors' high expectations.
Related: ECB takes center stage after pause in crisis
U.S. stocks finished higher Friday following a bounce from Bernanke's speech.

World Markets: European stocks closed lower after Moody's warning. Britain's FTSE 100 lost 1.5%, the DAX in Germany shed 1.2% and France's CAC 40 fell 1.5%.
Asian markets ended lower on weak manufacturing data. The Shanghai Composite slid 0.8%, the Hang Seng in Hong Kong lost 0.7%, and Japan's Nikkei edged lower 0.1%.
Chinese manufacturing contracted for the first time in nine months, adding pressure on Chinese government authorities to take steps to reverse the slowdown.
Economy: Investors shrugged off better-than-expected monthly sales from the big three automakers: General Motors (GM), Ford (F), and Chrysler.
Companies: Shares of Netflix (NFLX) tumbled nearly 10% after Amazon.com (AMZN) announced a licensing deal with the cable channel Epix to provide streaming movies.
Facebook's (FB) stock fell 2% to below $18 a share, another new low for the social network.
Campbell Soup (CPB) posted better-than-expected earnings Tuesday morning. After moving higher for the most of the day, the soup company's shares closed flat.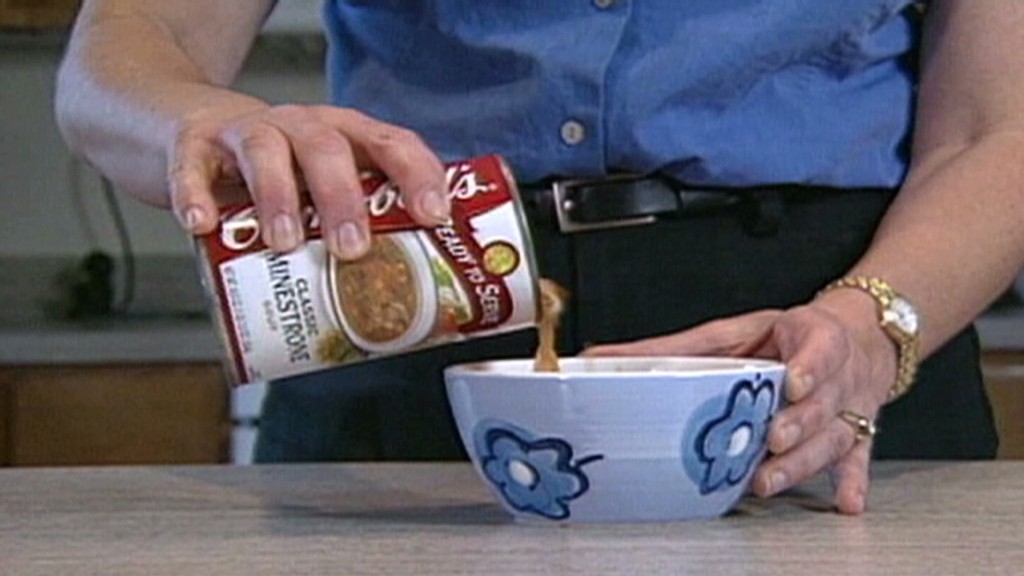 Smithfield Foods (SFD) reported earnings of 40 cents per share, coming in bellow analyst expectations. The company cited growth in its packaged meat business, but poor performance of its fresh pork business dragged on profits. Still it managed to close up 3%.
Currencies and commodities: The dollar picked up ground against the euro, the British pound and the Japanese yen.
Oil for October delivery shed $1.17 to $95.30 a barrel.
Gold futures for December delivery added $8.40 to $1,696.00 an ounce.
Bonds: The price on the benchmark 10-year U.S. Treasury rose, pushing the yield sharply lower to 1.57% from 1.62% late Friday.