U.S. stocks were poised to keep climbing Friday, following a huge rally a day earlier that sent all three major indexes to mult-year highs thanks to the Fed's new stimulus plan.
The central bank announced a third round quantitative easing, or QE3, saying it would buy $40 billion of mortage-backed bonds each month for however long it deems necessary.
The optimism carried over to the commodities market Friday, with oil prices spiking 1.6% to $99.83 a barrel.
Gold, which is used as a hedge against inflation, also continued to climb, with prices touching a seven-month high before easing to $1,773.50 an ounce. Meanwhile, U.S. Treasuries sold-off sharply, pushing the 10-year yield to 1.83% from 1.74% late Thursday.
World markets, which had already closed ahead of the Fed, joined the rally Friday. European stocks jumped between 1.5% and 2% in morning trading. Asian markets ended higher, with the Hang Seng in Hong Kong surging 2.9% and Japan's Nikkei gaining 1.8%.
The dollar fell to its lowest level since May, as the euro pushed above $1.31.
Related: Oil and gold surge, dollar falls on Fed action
Investors will sift through a handful of new economic reports on Friday, including retail sales, inflation, industrial production and consumer sentiment.
U.S. stocks rallied Thursday, pushing the Dow Industrial Average and the S&P 500 to their highest closing levels since December 2007, while the Nasdaq finished at its highest level since November 2000.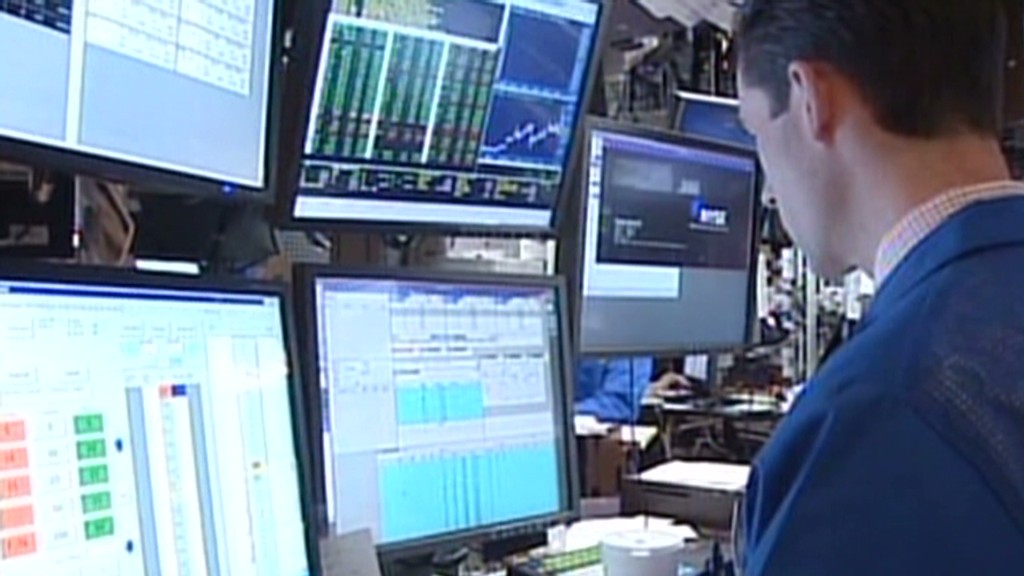 Economy: Retail sales came in higher than expected, rising 0.9%, the Census Bureau said.
August inflation was in line with what analysts had anticipated, with CPI increasing by 0,6%, according to the Bureau of Labor Statistics.
After the opening bell, the Federal Reserve will publish data on industrial production for August, expected to have declined by 0.2%.
The preliminary edition of the University of Michigan's Consumer Sentiment Index for September will also be released Friday, along with data on July business inventories from the Census Bureau.
Companies: UnitedHealth Group will join the Dow Jones industrial average, replacing Kraft Foods, starting on Sept. 24. The index change came as Kraft plans to spin off its North American grocery business, which will be renamed the Mondelez Group on Oct. 1.
The Dow Jones Averages Index Committee said in a statement that it believes Kraft's plan will "reduce market capitalization" and revenue, making the company "less representative of the U.S. large cap market space."
Home Depot Inc (HD) said it will close all seven of its big box stores and cut 850 jobs in China, another sign that companies are feeling the effects of a slowing Chinese economy.
Shares of Staples Inc (SPLS) were up 2.4% in premarket trading on a report by CNNMoney sister publication Fortune that several private equity firms, including Bain Capital, are considering a buyout offer for the office supplies retailer.
Apple (AAPL) shares closed at an all-time high Thursday, a day after the company unveiled the latest edition of its wildly popular iPhone. Amazon (AMZN) shares also closed at an all-time high. Both stocks were up again in premarket trading.