U.S. stock futures were modestly higher Thursday, but pulled back following reports that U.S. jobless claims fell and second-quarter GDP growth was revised downward.
U.S. jobless claims dropped 26,000 to 359,000 for the week that ended Sept. 22, slightly better than expected. A different government report showed that the growth rate for the U.S. economy last quarter was 1.3% instead of the previously estimated 1.7%.
Durable goods orders dropped more than anticipated to 198.5 billion in August, 13% lower than the U.S. Census Bureau reported the previous month.
Later in the morning, a report on pending home sales is due from the National Association of Realtors. Economists predict sales to have ticked up 0.5% in August, following a 2.4% jump in the previous month.
Meanwhile, both European and Asian markets rose on hopes that China's central bank will engage in further monetary policy easing.
The People's Bank of China has injected a net ¥365 billion ($58 billion) into money markets this week, just as China's marquee stock index -- the Shanghai Composite -- reached a three-year low.
Talk that the central bank will take further easing measures next week boosted Asian markets. The Shanghai Composite ended up 2.6%. The Hang Seng in Hong Kong jumped 1.1%, and Japan's Nikkei ticked up 0.5%. It's the latest sign that central banks are taking measures to keep a global slowdown at bay.
Early gains in European stocks were pared back after a disappointing report on eurozone sentiment, which showed a surprise decline in September. Economists had expected the European Commission's monthly index to be unchanged.
Britain's FTSE 100 added 0.3%, the DAX in Germany gained 0.5% and France's CAC 40 rose 0.7%.
Investors are waiting for the Spanish government to release its 2013 budget, which is due out this morning. And Friday brings auditors' results of bank stress tests, which could give investors a better idea of just how deep Spain's banking troubles run.
It's been a worrying week for Spain, as yields on 10-year Spanish bonds shot up above 6% for the first time in three weeks after the leader of Catalonia called for early elections. Reports that a fifth Spanish region (Castilla-La Mancha) may seek a bailout also weighed on sentiment.
Related: Spain's precarious future
Stocks ended lower Wednesday, with the S&P 500 logging its fifth consecutive daily loss.
Companies: Shares of Sealy (ZZ) rose more than 3% after rival company Tempur-Pedic (TPX) said it was buying the company for $228 million. Sealy reported zero earnings per share, falling short of expectations. The company canceled the morning's earnings call, citing the new deal. Meanwhile,Temper-Pedic shares surged 9%.
HP (HPQ) shares fell more than 2%, after investment bank Jefferies downgraded the computer maker's stock and lowered its target price.
Shares of Advanced Micro Devices (AMD) jumped about 2% after the chip maker unveiled a new, faster chip that's expected to be 25% and come with integrated graphics.
Goodyear Tire & Rubber (GT) shares rose 4% after the company revealed a new road vehicle tire, one that will meet the European Union's highest fuel efficiency standards, rules which go into effect in November.
Shares of spice and condiment maker McCormick (MKC) fell more than 3% following the company's quarterly report in which CEO Alan Wilson warned of continued "volatile material costs." The food company reported earnings per share of 78 cents, beating expectations.
Discover Financial Services (DFS) is scheduled to release its quarterly results ahead of the market open, with analysts surveyed by Thomson Reuters expecting the company to post earnings of $1.04 a share.
Micron Technology (MU) is expected to report a loss of 22 cents per share, while Nike (NKE) is anticipated to announce earnings of $1.12 per share.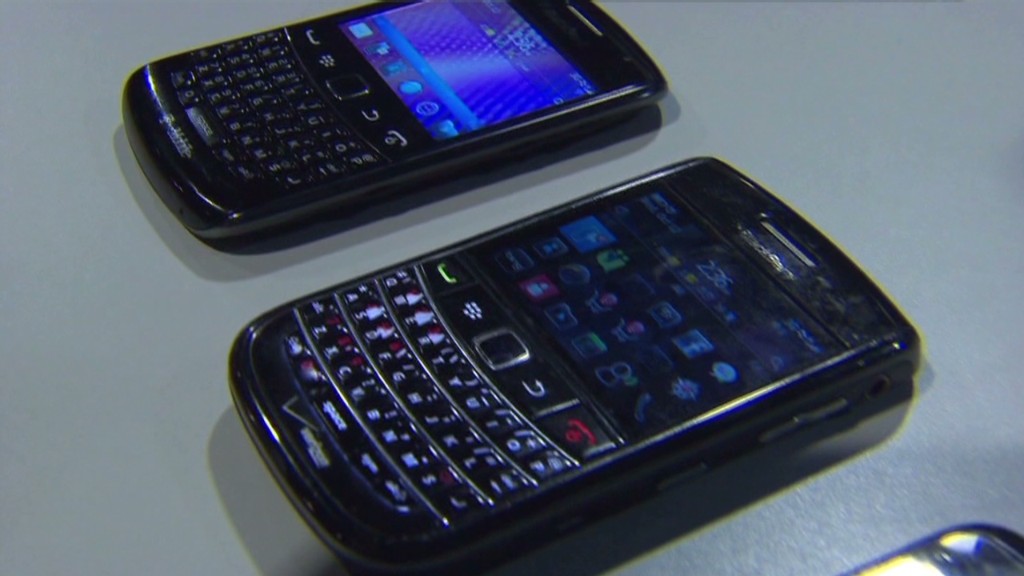 After the market closes, Research in Motion (RIMM) will report its results. The troubled BlackBerry maker is expected to post a loss of 43 cents per share. Shares were up 1% in premarket trading.
Currencies and commodities: The dollar rose against the euro, but fell versus the British pound and Japanese yen.
Oil for November delivery added $1.32 cents to $91.30 a barrel.
Gold futures for December delivery rose $15.60 to $1,769.20 an ounce.
Bonds: The price on the benchmark 10-year U.S. Treasury slid, pushing the yield up slightly to 1.63% from 1.62% late Wednesday.