Stocks closed solidly higher Tuesday after Fed chairman Ben Bernanke gave investors reason to believe that the central bank would continue to do its part to help the economy.
"Economic activity in the United States has continued to expand at a moderate, if somewhat uneven pace," he said, explaining why the Fed's bond buying program should continue.
Bernanke's promise of continued aid, coupled with positive economic data and robust corporate earnings, helped the Dow Jones Industrial Average, the S&P 500 and the Nasdaq end the day up between 0.4% and 0.8%.
Gold prices also rallied, rising nearly 2% in the biggest one-day jump this year. "Gold looks good today on Bernanke's reassurance of continued monetary accommodation," Jeffrey Nichols, a managing director at American Precious Metals Advisors wrote in a note to investors.
The S&P Case-Shiller index for the fourth quarter showed home prices jumped 7.3%, the third straight quarter of year-over-year gains. New home sales also jumped more than 15% in January, the sharpest monthly increase since July 2008.
Home improvement retailer Home Depot (HD) reported strong year-end results, providing more evidence of a housing rebound. The company reported a 7% gain in same-store sales for the fourth quarter.
Consumer confidence also increased in February. The Conference Board's index showed that confidence jumped to 69.0 from 58.6 in January.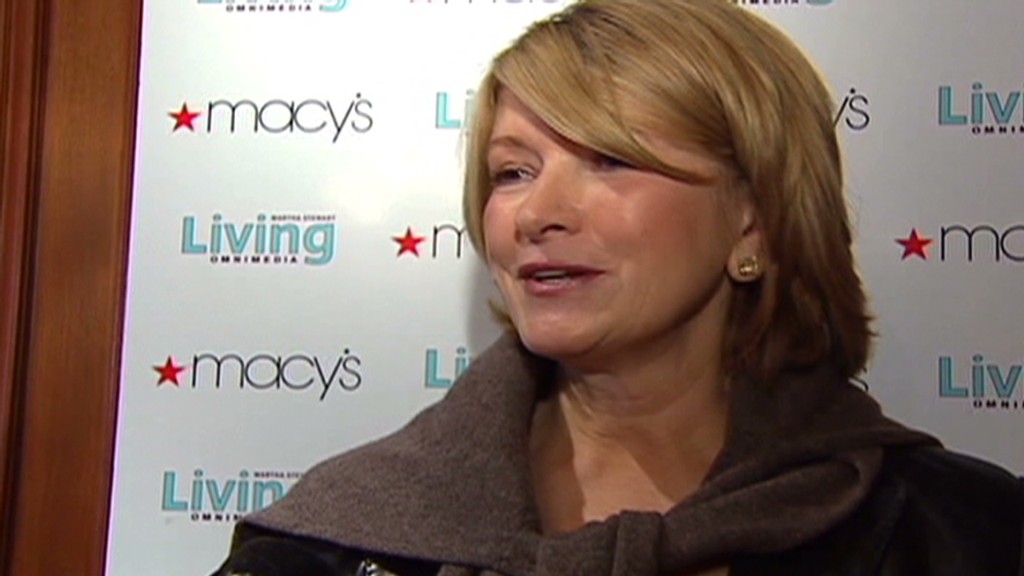 Shares of department store chain Macy's (M) rose after the company reported a 20% increase in fourth quarter profits and a 3.7% increase in sales at stores open for more than one year.
Shares of Best Buy (BBY) dropped more than 3% after the troubled electronic retailer announced that it would cut 400 jobs at its headquarters as part of a plan to slash $150 million in expenses.
JPMorgan Chase (JPM) announced plans to cut costs at the bank. At the bank's annual investors day, CEO Jamie Dimon said he plans to cut 4,000 positions in 2013 as part of the bank's plan to save $1 billion this year.
Shares of Priceline (PCLN) spiked after the bell following the company's fourth quarter results. The online travel site beat profit forecasts.
First Solar (FSLR)'s stock plunged in after hours trading, after the solar company's revenues missed expectations.
Related: Italy's election mess won't knock out Europe
On Tuesday, Italian politics took a backseat after dominating investor sentiment Monday.
An Italian election that failed to produce a clear winner whipsawed U.S. stocks late Monday, with the Dow and S&P 500 suffering their biggest one-day declines of the year.
Election results released by the Italian government late Monday showed a narrow victory for the center-left coalition headed by Pier Luigi Bersani in the lower house of parliament.
But former Prime Minister Silvio Berlusconi and other anti-austerity parties were not far behind, and the results pointed to gridlock in the Italian Senate.
Related: Investor fear on the rise
European markets ended the day down between 1.3% and 2.7%, following Asian markets, which also closed lower.
The Hang Seng in Hong Kong fell 1.3%, while the Nikkei in Tokyo dropped 2.3% and the Shanghai Composite lost 1.4%.
Oil prices dipped. The U.S. dollar fell versus the Japanese yen but gained against the euro and the British pound.
The yield on the 10-year Treasury note edged lower to 1.87%, from 1.97% previously.