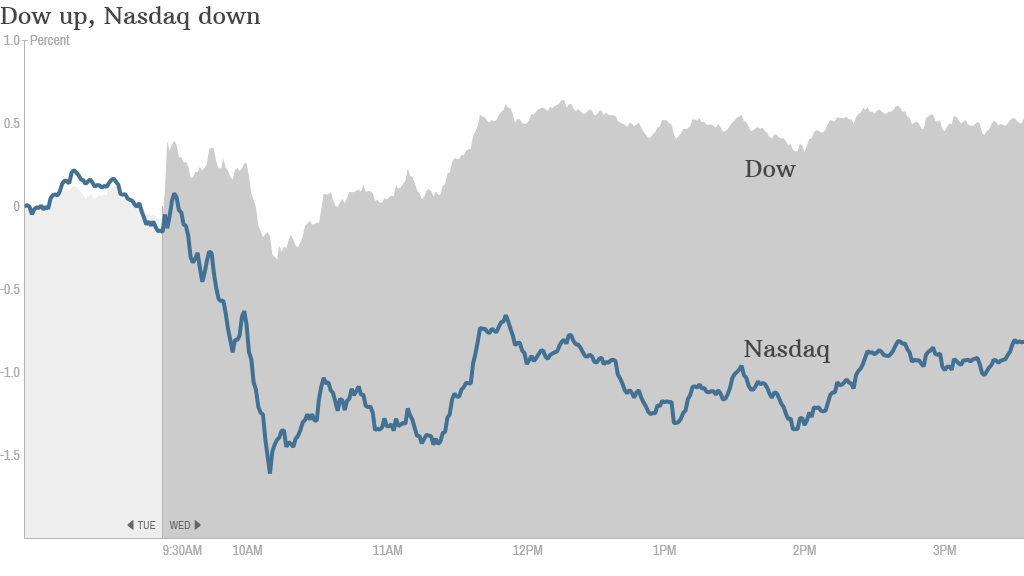 "Blue-chip" stocks marched higher on Wednesday, but more trouble in the tech world kept the Nasdaq from joining the party.
The Dow Jones industrial average popped about 118 points and the S&P 500 also landed comfortably in the green. These indexes rebounded after Fed chief Janet Yellen wrapped up her remarks to Congress and stayed strong for the rest of the day.
The Nasdaq, however, closed off its lows but still firmly in the red amid selloffs for stocks like Groupon (GRPN) and Weibo (WB).
While many expected the biggest talking point of the day to be Federal Reserve chair Janet Yellen, tech stocks again took center stage, and it wasn't a pretty bow. After a brutal sell-off on Tuesday, Twitter (TWTR) shares slipped to a new all-time low below $30.
Related: CNNMoney's tech 30 ends day down
"$TWTR, seeing its ride down from $60, tempted to buy little at these levels as it looks like an ideal buy out candidate from $AAPL/$FB/$AMZN," said StockTwits user Praveenkmohan.
Shares of Groupon dove nearly 21% after the daily deals company logged a larger-than-expected quarterly loss.
NYSE-listed AOL (AOL) also plunged nearly 21% as the company's ad-driven revenue growth was overshadowed by tumbling profits. The 64% decline in earnings was driven by restructuring charges as well as writedowns.
"$AOL Just like I argued before, brand group has no moat and AOL networks has razor thin margins," said StockTwits user dtrainer_NewConstructs.
One of the biggest losers on the day was FireEye (FEYE), which crumbled almost 23% on a disappointing outlook. The cybersecurity company has tumbled close to 60% over the past three months.
"$FEYE rule number 1. never buy ANY company for more than 10x sales. No exceptions," said StockTwits user pyrrhotec
Related: Fear & Greed Index still gripped by fear
Other Internet stocks being hit include Weibo, Sina (SINA), Pandora (P), and Facebook (FB).
Even some non-tech stocks listed on the Nasdaq struggled, evidenced by the 19% plummet for Whole Foods (WFM). The specialty grocer was hammered after reporting sub-par results and dimming its outlook.
Momentum stocks could be in further trouble on Thursday as Tesla (TSLA) slumped 6% in after-hours trading even after reporting earnings and revenue that exceeded forecasts. On the other hand, Kuerig Green Mountain (GMCR) popped 6% as investors cheered the company's earnings beat and expanded partnership with the owners of Folgers.
Related: Whole Foods' really rotten day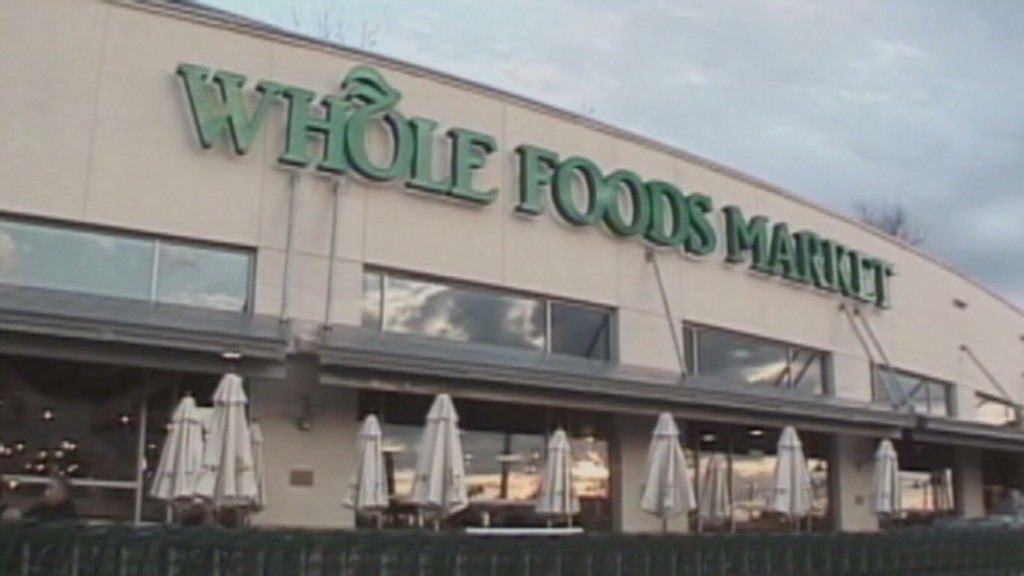 Investors paid close attention to Yellen's testimony on Capitol Hill this morning. She said she believes a "high degree of monetary policy accommodation remains warranted" due to the health of the job market. That's code for not raising interest rates any time soon, which should help risk assets like stocks.
Yellen's script has so far largely mirrored the Fed's statement last week when it decided to dial back its bond-buying program by an additional $10 billion. The Fed chief blamed bad weather for the economy's ugly first quarter, but said growth should rebound.
Related: Janet Yellen worries about housing slowdown
Under questioning from lawmakers, Yellen refused to specify when the Fed will raise rates. "There is no specific timeline," she said.
Yellen said the Fed doesn't see obvious signs of a bubble in the overall equity market, though she did note "pockets" of potential "misvaluations" in smaller cap stocks.
Traders are also buzzing about Alibaba's long awaited U.S. initial public offering, which could be the biggest in U.S. history. But Yahoo (YHOO), a major shareholder in Alibaba, tumbled over 6.5% as observers said the landmark filing left many questions unanswered.
U.S. stocks closed in the red on Tuesday. The Dow Jones industrial average lost nearly 130 points and the Nasdaq fell 1.4%. The S&P 500 fell 0.9% after advancing on each previous Tuesday this year.
European markets ended mixed. Asian markets all closed with losses. The Nikkei in Japan sank by nearly 3%.