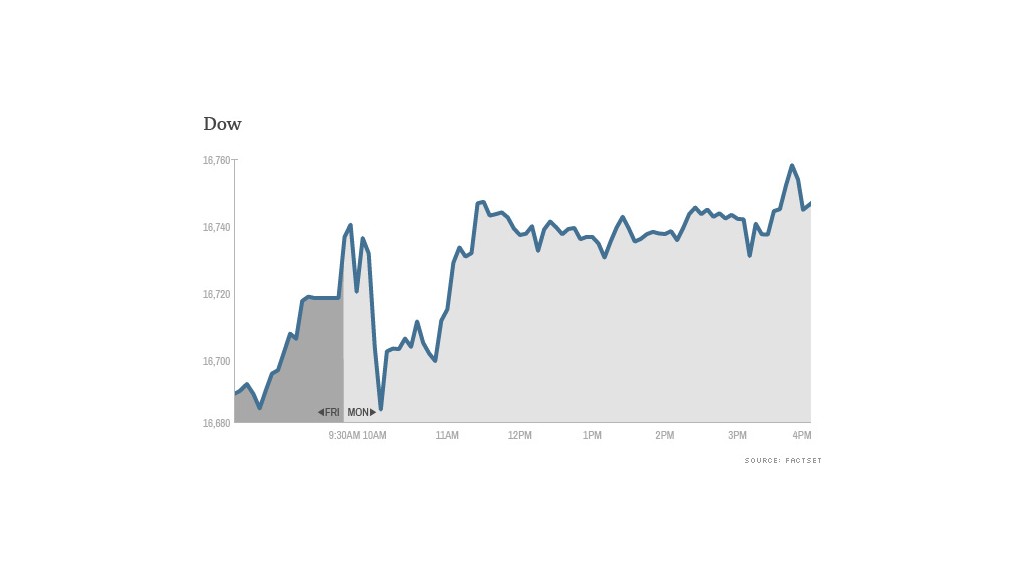 No correction needed here: Stocks cruised to fresh all-time highs on Monday even after a research firm messed up some closely-watched manufacturing data.
While the Dow Jones industrial average and S&P 500 hit new records, the Nasdaq limped to the finish line by closing slightly lower.
Here are five things you need to know about Monday's market action:
1. Oops! Manufacturing index corrected: The initial release of the Institute for Supply Management's manufacturing index showed an unexpected dip to 53.2 in May from 54.9 in April. That meant the pace of manufacturing expansion slowed a bit. Investors had expected a spring pickup.
But then ISM corrected itself by saying manufacturing activity actually improved to 56. That helped ease concerns about the economy, and the Dow quickly climbed back into positive territory.
ISM later corrected itself a second time, saying the actual reading is 55.4. The confusion over the ISM numbers frustrated investors (and journalists).
"I remain a buyer of U.S. value over growth. And I am a seller of propeller headed econometricians. You had one job, guys. ONE JOB," Michael Block, chief strategist at Rhino Trading Partners, wrote in a note to clients.
2. Another day, another record: After a record-setting month of May, stocks were once again hitting all-time highs -- despite the data confusion.
The Dow posted its sixth record close of 2014, while the S&P 500 logged its 15th record close.
But investors should remember that the S&P 500 record doesn't account for inflation. The S&P 500 would have to rally to 2,120 -- more than 10% -- for it to reach its inflation-adjusted high that was set in January 1999.
Did you benefit from the phenomenal stock market rise? Share your stories!
3. Techs stumble: The Nasdaq, which also had a strong May, closed in the red. The index was dragged down by tumbling shares of Amazon.com (AMZN), Tesla (TSLA) and BlackBerry (BBRY). Biotech stocks like Biogen (BIIB) were also in reverse.
Shares of Google (GOOGL) slid more than 1%. Over the weekend The Wall Street Journal reported Google plans to spend over $1 billion on a fleet of satellites aimed at boosting Internet access around the world.
A censorship monitor also revealed Google's search engine and Gmail service are being disrupted in China ahead of the 25th anniversary of the 1989 Tiananmen Square crackdown.
Apple (AAPL) slipped as investors weren't hugely impressed by Monday's announcements at the company's Worldwide Developers Conference. Apple unveiled new operating systems for Macs, iPhones and iPads as well as an app for health and fitness info.
Wall Street has been hungry for Apple to release new information about the company's effort to enter new product categories. The stock traded as high as $644 on Friday after Apple confirmed it's buying Beats for $3 billion and in anticipation of this week's conference. That's the closest the stock has been to its all-time high of just over $700 in September 2012. Today shares closed at just shy of $629.
On the other hand, shares of Broadcom (BRCM) bounced over 9% after the company revealed it is considering a possible sale of its cellular baseband business. The chip maker said a sale or wind down could generate $700 million in savings.
The Broadcom rally reminded some investors of the stock's darling status during the tech bubble when it surged to nearly $200.
"$BRCM popping like it's 1999," said StockTwits user chicagosean
4. Big stock movers -- Icahn Enterprises, Gannett, Protective Life: Billionaire Carl Icahn's publicly traded investment firm suffered a selloff amid insider-trading jitters.
The 4% drop in Icahn Enterprises (IEP) comes after law enforcement sources told CNN that the government is examining stock trades made by Icahn, golfer Phil Mickelson and sports bettor Billy Walters. The probe involves trades executed in 2011 after Icahn's investment in Clorox (CLX).
Related: Why insider trading will be hard to prove for Icahn, Mickelson
Gannett (GCI)rose almost 4% after Barron's argued the media company could surge 40%, especially if it follows in the footsteps of peers by spinning off its publishing assets like USA Today.
Protective Life (PL) surged 12% amid reports that Japan's Dai-ichi Life Insurance is considering acquiring the Alabama-based company.
Shares of American Realty Capital Healthcare Trust (HCT)raced almost 10% higher after it agreed to be sold to Ventas (VTR) for $2.6 billion in cash and stock. Both companies are health care real-estate investment trusts, or REITs.
Energy and utility stocks were largely unmoved by the sweeping EPA rules unveiled on Monday aimed at slashing the power sector's carbon emissions 30% by 2030.
Krispy Kreme (KKD) got "creamed" in after-hours trading, plunging 10% after slashing its earnings outlook and disclosing weaker-than-expected sales.
Related: Fear & Greed Index: Still in neutral
Meanwhile, gold continues to lose its luster, dipping 0.2% to $1,243 a troy ounce. The yellow metal is still up year-to-date but well off its 2014 highs of nearly $1,400.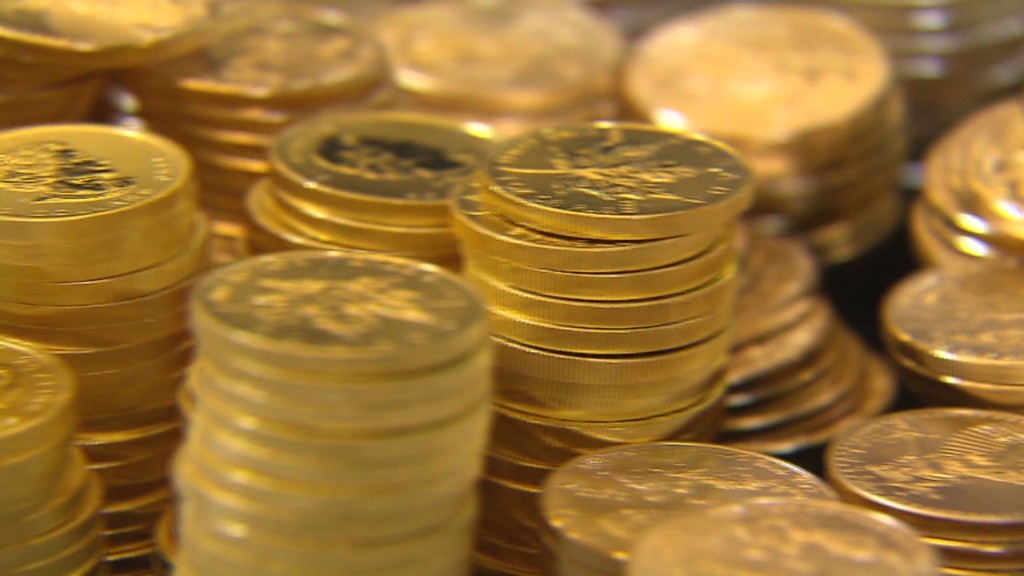 5. International movements: European markets closed slightly higher, with the FTSE 100 in London and the Dax 30 in Germany outpacing CAC 40 in France.
In Asia, a reading of manufacturing activity in China showed the country's factory sector continued to strengthen after a rough start to the year. The data has boosted investor confidence, but not everyone was able to react to the news since a handful of Asian markets were closed for a holiday. The Nikkei in Japan surged by just over 2%.